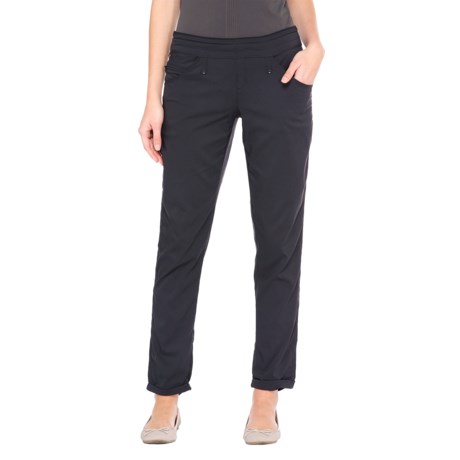 I find that these pants are great in hot humid weather. No clothing that I'm aware of will protect you from mosquito bites except those that say that they do. These pants are not impregnated with repellent. Light colored clothing might help to deter biting insects, but definitely will not protect you.


I believe they would be great as travel pants in warm or hot and humid areas -they are light weight, can be hand washed and hung dry with good results -they are very comfortable with good stretch -however I don't know if they will stop mosquitos as the fabric is thin summer weight-but probably better than shorts or a dress.

These would probably work okay in hot humid climates.

I think they would be too hot. They're great pants for the plane ride, nice enough to wear to dinner. After getting the first pair, both my sister and I got them in the other color because they're so comfortable and versatile. However, I would not recommend for wearing in hot, humid weather. We took to Africa and found them too warm for daytime wear. Maybe the material is not breathable?