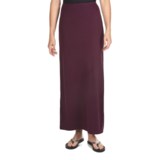 2nds. Just add layers to this creative wardrobe basic -- a long, lean skirt made from a substantive jersey fabric, a veritable steal originally made for a famous retailer/brand.
Average Rating based on
11
reviews
4.363636
0
5
Reviewed by Rez Runner from AZ on Tuesday, December 18, 2012

This is a great skirt! It feels comfy over a pair of tights and doesn't show bumps through it even though it's straight and fairly fitted. I had it on all day for work and have no desire to change my clothes now that I'm home. The medium fits size 10.

Verified Buyer

Reviewed by vtgirl from Central Vermont on Monday, December 17, 2012

Classic skirt! Pretty color - very rich. Nice thick fabric. Clings well to body without being obtrusive. Very nice skirt overall.

Verified Buyer

Reviewed by Grammanise from Seattle on Monday, December 3, 2012

I ordered it to wear post-knee surgery. The skirt is a beautiful wine color, fits well, and is a good length. The fabric is too light to drape really well, but for the money, it's a great deal!

Verified Buyer

Reviewed by mttomjoad from Montana on Tuesday, November 27, 2012

It's a very versatile skirt and is warm. The Jersey is very soft.

Verified Buyer

Reviewed by Michie from Michigan on Saturday, November 24, 2012

This skirt is comfortable to wear being pregnant. I would go a size up so that the skirt wouldn't be tight. In the colder months its also warm due to the material and length. A good purchase.

Verified Buyer

Reviewed by amy from Baraboo,WI on Wednesday, November 21, 2012

great casual pull on maxi skirt

Verified Buyer

Reviewed by S'cal from Oregon on Tuesday, November 13, 2012

Large fits size 12 nicely. Really nice fitting, not tight at all but drapes well, nice quality fabric. I look forward to wearing this, it is an exceptional deal.

Verified Buyer

Reviewed by Lady from Near suburbs of Chicago on Monday, November 12, 2012

This skirt is perhaps the most underappreciated product on STP, and I'm going to endeavor to explain why, so that other buyers won't shy away from it, as I did for so long.

I watched this product for the longest time, liking the column skirt design, but being afraid that the low price meant that other customers had not liked it, probably due to being made from a low-quality t-shirt grade interlock. Well, that fear was completely unfounded. This is a wonderfully heavy, quality interlock, dyed a rich shade of Tyrian purple. That's the color of such dignity that it was once reserved for emperors, royalty, senators of Rome, and the like. It is quite dark, yet saturated with color, and is remarkably versatile. I find that it mixes very well with olive greens, pale yellows, golden yellows, various shades of muted orange and red, as well as some other shades of purple. I am wearing this skirt with a pale yellow cashmere sweater, a dusty-plum crepe jacket, and a scarf that incorporates just about every muted shade of the colors that I just mentioned. The ensemble comes off as colorful yet dignified.

So, why doesn't this skirt get more respect? I'm guessing that it's because folks are afraid of the "dry clean only" tag, which I am personally not going to take too literally. There's nothing about the material or construction that seem to me to absolutely preclude laundering, so I plan to hand wash or use the machine on gentle cycle, using cold water, of course, and hang to dry.

Another factor that may precipitate a premature return is the fact that the skirt arrives with some pretty deeply creased wrinkles that do not give way to ironing easily, and make it hang quite awkwardly out of the package. In fact, when moistened with water or steam, the fabric appears blotchy with a markedly lighter purple. "Uh-oh", I said while ironing it, "I've ruined it now." But oddly enough, when dry, the fabric is unblemished. The wrinkles do not come out easily, and to avoid overheating the fabric, I would highly recommend using a steam station, or having your dry cleaner steam it for you, rather than ironing.

Once the wrinkles are gone, this skirt has wonderful body, and hangs absolutely perfectly, which is essential in a column skirt. I wear a size 6, and the fit is dead-on with nary a pucker at the waistband. It pulls on easily, yet lays perfectly flat at the waist, so that the perfect lines of the skirt are not even disrupted by a zipper closure. This is only possible with a high-quality fabric. This is a long skirt, all the way to the ankle, but because of the body of the fabric, it comes off beautifully.

What more can I say? I highly recommend this skirt, especially at this gigglably low price.

Best Uses: Business or casual, Dress up or down
Pros: Quality fabric, Rich Color

Reviewed by surfer girl from Santa Cruz, CA on Friday, November 2, 2012

I ordered a large. I am 5'2" and have to wear this skirt above my pregnant belly so it will not drag on the floor. For pregnancy, this skirt is great! Super comfy and plenty of room for movement. However, it is long!

Verified Buyer

Reviewed by M from NY on Tuesday, October 30, 2012

This skirt is from the Limited. The fabric is a substatial weight cotton, suitable for fall and winter, and the color is lovely. The downside is that it shows every lump and bump. Unless you are young and fit, I would avoid this skirt.