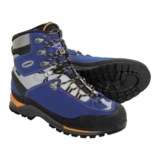 Closeouts. Handcrafted in Italy, Lowa's Cevedale Gore-Tex® boots are engineered to take on tough alpine terrain and challenging ascents. Gore-Tex® waterproof breathable membrane for superior weather protection.
Average Rating based on
32
reviews
4.437500
0
5
Verified Buyer

Reviewed by Brady from Kansas City on Wednesday, December 2, 2015

I took these up Longs Peak and Mount Hood in November of this year. They are excellent mountaineering boots! My feet stayed warm and dry for the entirety of both hikes. I didn't use crampons on Longs, but I did on Mount Hood, and I had no issues. If you can get these on clearance (like I did), there's not a better deal around!

Verified Buyer

Reviewed by Mountain Man from Canadian Rockies on Thursday, November 26, 2015

Don't believe the sizing hype. Order your regular size and you'll be fine. I ordered a 1/2 size up and wish I went with my standard size. I picked up the box and was surprised how light it felt. I haven't got the scale out, but I'm not too worried about these weighing me down on long days. Lots of room in the toe box (almost too much, because I sized up), also there is plenty of room for wider feet with high arches, not feeling constricted on top of the foot like others were concerned about. Quality materials, and great price make this boot a no brainer. If the boot doesn't fit to your liking, you can probably sell them for more than you payed for them!

Reviewed by mikew1231 from Minnesota on Tuesday, October 27, 2015

I would reccomend these boots to anyone. They are the best boots I've ever owned. The lacing system is excellant, not sure why it hasn't been done like this before, maybe it has, but I had never been exposed to it before. Very well made, I'm sure that they will last for many years.

Verified Buyer

Reviewed by Bernie Chico Tree service from Chico,Ca on Monday, October 12, 2015

Very very comfortable like putting on slippers the most relaxed boot I have ever worn.There stiff a great very hard toe and vibram bottom that is great for hills and trails. I wear them for Tree Trimming /climbing trees and are very good I have about two weeks wearing them.

Verified Buyer

Reviewed by Bama Hiker from Shiregrass area of Alabama on Wednesday, August 5, 2015

While I have not actually hit the trail or climbed a mountain with these boots, I have worn them for a break-in period. This is the reason for only a 4 star rating. So far I am very impressed with the workmanship and quality. My foot size is 10.5 US and I typically buy boots and trail shoes in size 11 for foot swelling. However, I had to return the first pair of Lowa boots and order another pair in size 11.5. The 11 US size -- wearing normal medium thickness wool socks -- were a tad bit small and tight for my feet. My toes were bumping up on the inside with the front the boots. And the boots were a bit narrow, which would not allow for normal foot swelling when hiking/climbing. So my recommendation is buy this boot (made in Euro sizes) in a half US size larger for a comfortable fit. The second pair in size 11.5 feels fantastic and I have great expectations for good performance when hitting the hills. There is ample space to wear a heavy thickness wool sock with the half larger size. Cheers.

Verified Buyer

Reviewed by A climber from Idaho from McCall, Idaho on Tuesday, June 23, 2015

I expect these boots to last awhile. They are replacing my La Sportiva Trangos, which have served me well but don't last too many seasons of central Idaho mountain scree. I usually wear a men's US size 10 shoe, or a Euro 44. These 44.5 boots fit great right from the start, and the locking lacing system is well thought out to fine tune heal hold down while keeping my high instep happy. The stock insoles are light and supportive, a big surprise. I use these on snow and rock, and they fit my BD Contact semi-auto crampons quite well. So why not 5 stars? Well, compared to the Trangos, they are heavy. About 6 ounces more per boot. That's like carrying 6 more pounds in your pack, per US Army research. Also, the white leather (nagahide, whatever) ankle section and upper tongue don't allow the easy articulation side to side or forward that my Trangos did. That's the performance compromise you are choosing for the durability of these boots. The waterproofness, stiffness, and great climbing rubber make these boots a great choice for peak baggers, summer use on NW volcanos, and they edge and smear well on mid 5th class alpine routes. Not stiff enough for front pointing on ice, not light enough to drag up alpine climbs if you need to use rock shoes on the hard pitches. They definitely have their place though.

Verified Buyer

Reviewed by Southwest Coyote from New Mexico on Wednesday, March 11, 2015

While the Lowa Cevedale, cannot compare to my first true (boot) love, my beautiful (wood mid-soled) Galibier Super Guide's, the Cevedale is easily the best boot I've spent meaningful time with since my Asolo Yukon's were chewed, bitten and torn apart by some hungry backcountry critter. Ever since my Yukon's died, I have engaged in a long search for a faithful (boot) companion. In that quest, I have had many boot affairs and even a few romantic dalliances with the usual suspects, Scarpa(s), Asolo(s), LaSportiva(s) and most recently Salewa. But I never truly fell in love with any of these Italian movie stars. For some unknown reason, I never considered even trying on a pair of Lowa boots. I guess I was convinced that the Italian last fit my narrow, high arch, low volume feet best. Big mistake. In my experience, the fit, quality and construction of Lowa boots is the highest of any non-custom made boots currently on the market. The Cevedale are not hiking boots and they are not per say climbing boots. The Cevedale are intended to be worn doing what we used to call "mountaineering". The Cevedale seem to come to life when I start off trail scrambling on steep talus and rocks. I use the Cevedale for Colorado 14er "peak bagging" and general (4 season hiking around the mountains) mountaineering use in New Mexico and Colorado. Surprisingly, the Cevedale only took two trips to break in and I never got any blisters. The Cevedale are taller in the cuff than typical trail hiking boots, but the tongue never caused discomfort if the laces were properly tensioned. The Cevedale work well with my adjustable Black Diamond crampons and the sole is stiff enough to edge on (non-technical) holds typically encountered in the mountains. I haven't worn the Cevedale's in extreme cold, but I have worn them comfortably in the -10 degree range with regular gaiters. The most impressive and truly useful design feature of the Cevedale is the lacing system. The Cevedale lacing system is very well designed and allows the boot to be adjusted in three "sections" (forefoot, Instep and ankle) thereby isolating tension from one "section" affecting the desired tension in the other sections of the boot. Lacing the Cevedale takes some time and effort to get the system dialed, but the effort is rewarded with all day comfort. The Gore Tex liner keeps out the elements and does a good job of wicking moisture. Lowa sizing is based on the European system and it is worth checking the conversion tables if you are not familiar with European sizing. Last but not least, I wasn't very excited about the bright blue color, but the STP price is too incredible to pass up. I am glad I didn't make my boot choice based on color. I highly, highly recommend the Lowa Cevedale.

Reviewed by Andy from North Vancouver on Tuesday, January 13, 2015

This is the third Lowa hiking boot I have owned. The 2 others are Renegade GTX 9.5 mid wide which are great for day hiking in the wet but I wanted a heavier boot for the mountains. I know the 9.5 M in Lowa run narrow so took a chance with a 10M on these. The fit is snug but comfortable with both lightweight and mid-weight hiking socks. My toes are are actually marginally closer to the boot front than on my 9.5 Renegades so these seem to be smaller overall. Note these have 5 tags so takes a few moments to lace up and that might be an issue to some.

Verified Buyer

Reviewed by jrnpdx from Portland, OR on Wednesday, December 24, 2014

I got these Lowa Cevedale boots for a steal via extra savings email flyers. These boots are bomber, comfortable, and look great. I couldn't be happier.

Reviewed by Bernard Lopez from Frederick, Maryland on Saturday, November 29, 2014

Purchased a pair of size 8.5 Lowa Cevedale hiking boots in blue/white to replace a comfy pair of size 8 Asolo Flame hiking boots that I bought in 2010. I would have loved to have gotten another pair of Asolos however, I found them not to provide very good traction in wet and snowy conditions and thus was hoping the Lowas could fill that role.

The Lowas are very well made and great looking boots. They do provide better traction than the Asolos, but they do not provide the fit and comfort that I got from the Aolos from day one. I could wear the Asolos all day! The Lowas are narrower, a little cumbersome to lace up and require quite a bit of break-in. They have become easier on the feet over time, but not to the level of comfort I had with the Asolos.

When the time comes to replace the Lowas, I may go back to Asolos.