Snowsport Article
How to Choose Snowshoes

If you love hiking in spring, summer and autumn, there's no reason your adventures have to stop when the snow flies. With a pair of snowshoes and the right clothing, you can hit your favorite trails all year long and explore beautiful, secluded winter landscapes like you've never seen before. Of course, snowshoeing is also a great cardiovascular exercise. Not sure what kind of snowshoes to buy? In this article, we explain how to choose snowshoes in three steps:
First, narrow your selection between recreational, racing and backcountry models. Most beginners will be happy with recreational snowshoes, which feature easy-to-use bindings and an entry-level price point. Racing snowshoes are lighter and typically have a tapered tail for maneuverability and speed. This comes at a slight reduction in flotation, however, so racing snowshoes aren't ideal for very deep and light powder. Finally, backcountry snowshoes are the largest and feature a rounded tail for maximum flotation in deep, powdery snow. These also include aggressive crampon spikes underfoot for enhanced traction on more challenging terrain.
Next, decide between unisex and women-specific snowshoes. Although many women will be happy with a unisex model, some women prefer the additional benefits of women's snowshoes, which are designed with a slightly different frame shape and bindings to better accommodate smaller-framed women. Women who are shorter than average will generally benefit most from a set of women's snowshoes.
The last step is to choose a snowshoe size. Most snowshoes range between 20" and 36" in length. The heavier you are, the longer your snowshoes must be to prevent you from sinking too far down into the snow. Take a look at the size chart below to determine your ideal snowshoe size. Ideally, you should try to get a pair of snowshoes in the "optimal" range, but there is a little wiggle room. Remember to include the weight of any gear you plan on carrying when referencing the chart.
Snowshoe Size Chart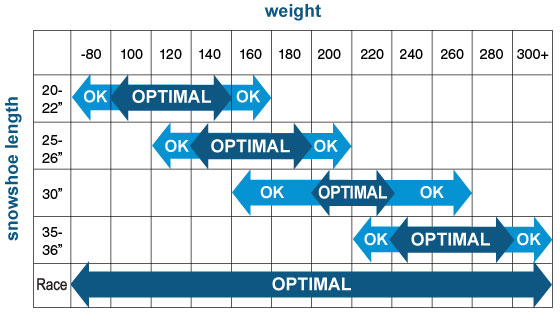 Snowshoeing Tips
Consider picking up a set of adjustable snowshoe poles (i.e. trekking poles) or ski poles. Snowshoe poles provide additional stability, which is important for traversing inclines, declines and more challenging terrain. If you've never been snowshoeing before, having a set of poles will make learning and maintaining your balance much easier.
Although most waterproof winter boots will work, consider choosing a pair of waterproof hiking boots or mountaineering boots to wear with your snowshoes. Because these boots are designed for hiking, they will provide better support and comfort compared to winter boots, especially if you plan to trek longer distances. Also, unless you wear ski pants with built-in gaiters, a set of waterproof gaiters will also come in handy to keep snow out of your footwear.
Create a layering strategy designed for high levels of activity (snowshoeing is a moderately vigorous cardiovascular activity), and also make sure you can adapt to changing weather conditions. A lightweight, moisture-wicking base layer is the ideal foundation. Avoid heavily insulated outerwear, which could cause overheating. Take a look at our Layering Guide for more tips and information.
Any time you're hiking across deep snow, especially in the mountains, it's important to be aware of potential avalanche dangers. Research snow conditions and weather in advance before heading out. When venturing into the great outdoors, always carry extra water, food, warm clothing, emergency supplies and survival gear, just in case.
Check out our Snowshoe Guide for more tips and safety information. Stay safe and have fun out there.