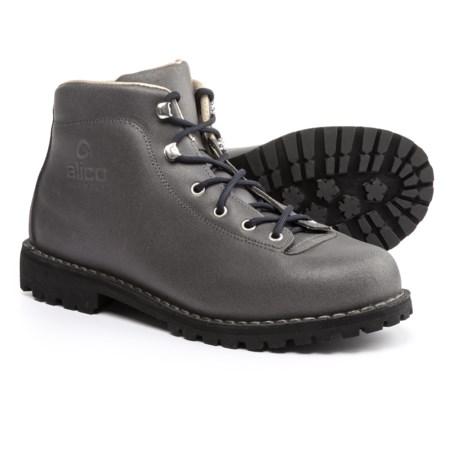 Boot size runs a solid 1/2 size large. I am ALWAYS a size 8.5 no matter what. I have flat wide feet. Nonetheless, I decided to order size 8 instead (1/2 size smaller) - the boots fit perfectly and are very comfortable..

Sounds like you live with the same dilemma as I, size-wise. My concern with these boots stems from the lacing system, apparently most folks who wear actual hiking boots like the ability to snug or loosen the boot further down toward the toes...whereas I prefer a wider consistent toebox(and make my adjustments with insoles and/or sock thickness.
The problem I had with the Alico boots I tried was where the toe-box flexed( it bore downward and pinched the top of my toes)...so it was not a size issue. Strictly on size, I felt the 11 1/2 was a fit(as most seem to agree that the Alicos run a bit large).
I would ad, I just "walk in the woods" as opposed to mountaineering, therefore I go for comfort and ankle protection(from sprains and scuffs) as opposed to concerns about climbing traction and such. Longevity has it's place. Hike safe.

According to our fit team this item is running true to size.