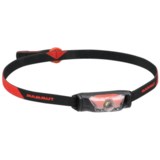 Closeouts. Mammut's S-Flex LED headlamp has a low-profile lamp and thin headband to minimize bulk while maximizing performance. Versatile design features one HiFlux LED light and two Red Super Bright LED lights.
Average Rating based on
18
reviews
4.222222
0
5
Reviewed by GDM from Chattanooga on Saturday, August 16, 2014

Best backpacking headlamp available. The listed weight of 1.7 oz includes the battery. It is smaller and lighter than any other headlamp I have tried. I have had one for several years and it has never switched on accidentally in my pack, never failed and the battery goes a long way. I just bought 3 more because I am afraid it will be discontinued.

Verified Buyer

Reviewed by Billy "Random". from Sierra Nevada on Thursday, July 31, 2014

I use this for day to day living. Which is sometime thruhiking and sometimes growing herb out on a hillside. Last time I bought two in case I lost one. You can't buy these just anywhere. Not at REI. I can nighthike and read books with it and it takes ONE AA. If you put a lithium AA in it you are good for a looong time.

Verified Buyer

Reviewed by Ladyknight from Montana on Thursday, May 15, 2014

I bought this lamp because it runs off just a single battery, which is nice for packing light. The white light setting is bright and has a good beam. The red setting is a bit dim though, and the flashing red is much brighter, but I don't think I will ever use it. All things considered, I'm pleased with this purchase.

Verified Buyer

Reviewed by RB from NYC on Saturday, April 26, 2014

Great HL, uses standard battery, bright and has multiple easy to manipulate switch.

Verified Buyer

Reviewed by Kevin from Alabama on Tuesday, April 15, 2014

I'm a big fan of using red lights at night when camping or outside, but usually it requires a massive headlamp. This one is the opposite, extremely lightweight. Seems a little delicate but will not know until I put it to use a lot more.



Verified Buyer

Reviewed by Marie from Colorado on Monday, April 14, 2014

I haven't had chance to use this outside yet, but seems to be plenty bright. Has a selection of lighting schemes, including red, and a "safety switch" feature so it doesn't get turned on accidentally, thereby burning out the battery. I love that it's so lightweight and compact and only takes one AA battery (less weight and easier to keep stocked at home than AAA batteries).

Reviewed by Hikin Jim from Orange County, CA on Wednesday, March 19, 2014

I just purchased this, so I don't have a "long term" review, but this is a nice lightweight headlamp -- it's about half the weight of my old Tikka XP.

One note: READ THE DIRECTIONS. You have to press the switch twice within one second for the headlamp to come on. This is to prevent it from turning on accidentally in your pack. I thought the switch was defective at first, but when I read the directions, I realized that this was by design.

The light itself is plenty bright, and I like the red LED's for when I don't want to degrade my night vision but I want to see for a second.

it's nice that it comes with a battery. Just a little extra benefit. :)

Reviewed by Anonymous from Virginia on Thursday, January 30, 2014

This little headlamp is great. I researched and found this to be one of only a few offered to run on only 1 AA battery., which makes it so light-weight and convenient. It took me a while to figure out the "safety switch", which means you have to double click it quickly to turn it on...Hope this helps anyone else who may initally think the switch is faulty.

Reviewed by Ayaz from Dover, NJ on Thursday, January 23, 2014

Love this headlamp: lightweight, bright, compact and runs on 1 AA. All my devices, camera, lantern, etc.. take AA, so it was nice to find a headlamp that takes AA and I don't have to carry different types of batteries. Also lasts much longer than AAA. I keep one in the car for emergencies. Like the red blinking LEDs that light alongside the main beam.. great feature for roadside repairs, making you visible to other drivers while having a bright spotlight on task at hand

Reviewed by Older athlete from Boulder, CO on Thursday, January 2, 2014

Powerful, compact. What more can I say?