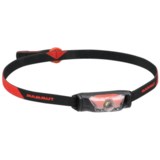 Closeouts. Mammut's S-Flex LED headlamp has a low-profile lamp and thin headband to minimize bulk while maximizing performance. Versatile design features one HiFlux LED light and two Red Super Bright LED lights.
Average Rating based on
18
reviews
4.222222
0
5
Reviewed by AEP from Philadelphia on Friday, December 20, 2013

Very cheaply made - the plastic cracked when I tried to open the battery case. Hoping I can get my money back.

Reviewed by Jolt from California on Thursday, December 19, 2013

Yes, it's not the most powerful headlight but it is the lightest headlight I've ever had. It only takes 1 AA battery so you don't have to pack the usual extra 3 when backpacking. You have to hit the button twice when turning on which prevents it from being accidentally turned on while it gets jostled in your pack and draining the batteries. My hubby throws it in his jacket anytime he's out just in case, and it has come in hany quite a few times, lighting up walkways and dark stairways. So small, it's easy to carry. My hubby drops the headlight around his neck sometimes and it still lights up the pathway so he doesn't have to have it on his head or hold it in his hand. Hubby had it first at full price, and I got so envious, I had to get one too. I picked one up here for cheap. Love the little light!!!

Reviewed by Happy camper from NJ on Wednesday, December 18, 2013

Very nice and lightweight - great headlamp. Runs on basic AA battery so no searching for goofy battery types. Great product - very happy w purchase.

Reviewed by Trailbob from Idaho on Saturday, November 30, 2013

I wanted a single AA battery headlamp, so all the items in my hiking/hunting packs use the same battery type. This light is lightweight and plenty bright enough for hiking and camp chores. The red light is not bright enough to hike with, but may have use in a tent, etc. I have only had it a few weeks, so I can't speak to its long term durability. Overall, I would recommend it to a friend.

Reviewed by manU from Portland on Thursday, October 24, 2013

Great. Lightweight basic headlamp to have always in a pocket. AA batteries are easy to find and it uses only one, lasts long time too. OK for trekking in The night, but not super powerful.

Reviewed by pre-dawn jogger from New England on Thursday, October 24, 2013

I've got a couple of these and they do what they are supposed to. No trouble with the switch. The directions tell you you must press the switch twice to turn the light on. The low power setting is plenty bright for digging around in your tent. High is adequate for running in the dark. the 2 red lights' beams are centered about 10 inches apart at reading distance, for me about 18 inches from my eyes. This seems adequate but I don't read with the light. I mainly use it jogging in the early morning. The flashing red light is good for this when on busier roads and the high setting is great on a dark trail. The light does not bounce around and it uses one AA battery, about the most ubiquitous battery there is. No complaints.

Reviewed by Bill from Indiana on Tuesday, October 8, 2013

What's good about this light is the single AA battery. I only wanted to carry 1 size battery for all my stuff so this is perfect. It's not that bright, but good enough for what I need.

Reviewed by Eric from Oregon on Tuesday, September 17, 2013

At first glance this headlamp appears to be ideal; a compact, mid-power light that uses a single AAA.
THE GOOD: Two nicely-spaced power settings with very nice neutral-white light, not the eye-straining blue-tint light found in other lights, the Mammut headlamps have the best color-rendition in my opinion.
THE BAD: An iffy switch; it may or may not turn on after one or several clicks, and the tilt-detents for holding the light in position are weak; both are sadly common for all Mammut headlamps. The red setting is useless; it is weak and projects as two widely-spaced spots of lights, useless for reading. The red flashing setting is much brighter, but who uses this setting? The thin base and strap make it useful only if you are sitting motionless, both need to be twice as wide to make it useful in any moving situation, and the thin strap slides around against the slippery thin plastic base, making it flop around as you move like a greased mammoth!
Don't bother; I returned mine immediately. Get a Zebralight M-52 instead, well worth the money.