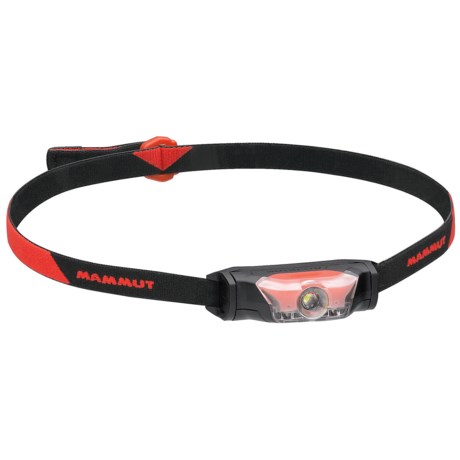 Looks ideal in many respects, but...
Reviewed by Eric from Oregon on Tuesday, September 17, 2013
At first glance this headlamp appears to be ideal; a compact, mid-power light that uses a single AAA.
THE GOOD: Two nicely-spaced power settings with very nice neutral-white light, not the eye-straining blue-tint light found in other lights, the Mammut headlamps have the best color-rendition in my opinion.
THE BAD: An iffy switch; it may or may not turn on after one or several clicks, and the tilt-detents for holding the light in position are weak; both are sadly common for all Mammut headlamps. The red setting is useless; it is weak and projects as two widely-spaced spots of lights, useless for reading. The red flashing setting is much brighter, but who uses this setting? The thin base and strap make it useful only if you are sitting motionless, both need to be twice as wide to make it useful in any moving situation, and the thin strap slides around against the slippery thin plastic base, making it flop around as you move like a greased mammoth!
Don't bother; I returned mine immediately. Get a Zebralight M-52 instead, well worth the money.
Most helpful positive reviews
Most helpful negative reviews
Similar items and more information in the following areas: