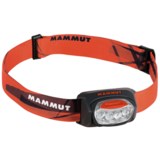 Closeouts. Any nighttime activity is easily illuminated by Mammut's T-Trail LED headlamp, with a wide 45° floodlight and 60-lumen output. Simply attach the included dry bag for diffused lighting in the tent or common area.
Average Rating based on
10
reviews
3.500000
0
5
Verified Buyer

Reviewed by Happy Camper from Washington on Wednesday, April 23, 2014

This is a great light, but the battery system is difficult and adds weight. The dry bag is a nice touch, but a little big if you are trying to conserve on weight for backpacking.

Reviewed by Happy Camper from Washington on Monday, March 24, 2014

I recieved a faulty headlamp. I am sending it back for one that hopefully works. But I do like the design and dry bag.

Reviewed by Scout Dad from MA on Tuesday, March 18, 2014

works well, light weight, not real high power but good amount of light at a great price.

Reviewed by Valerie.. Japan bound! from Idaho Falls, Idaho on Sunday, March 2, 2014

This head lamp is great... can't wait to put it through it's paces in the Grand Canyon in two weeks! You need to click the on button twice quickly (this keeps it from turning it's self on in your backpack and running the batteries down). The lamp it's self has three positions to aim the light at, so weather I am cooking or hiking down a path the light is directed exactly where I need it! When you first turn it on it glows green for a few seconds so you know you have good battery life left, if it glows red you know you need to be digging out some extra batteries or get an alternative light source going. The bag is a good size and lights my entire bedroom even on the low setting, of which there are 3 different levels of light. I think this is one of my best purchases.... definitely the best light source for me! I will be heading to Japan in May for 49 day's trekking from the south to the north end with some help via the Train here and there. I purchased two one for me and one for my daughter, and these two lights will be are go to items as the sun sets!
Beyond the great product DeRailed had the best price out there, and fixed my order when it was accidentally shipped to my old address. Derailed is the first place I will look for products I need to purchase for Japan and in the future! Thanks DERAILED!

Reviewed by 5Spikes from Sacramento, CA on Thursday, February 27, 2014

To start with, read the instructions. This headlamp has a different way to turn it on so that it doesn't turn on by itself in your pack.

You must click the button twice quickly to turn it on. It stumped me at first, but when all else fails, read the instructions. For the reviewers that gave it poor reviews, you really missed out.

This is the brightest headlamp I have used and it works great. Very bright and comfortable.

The drybag is more of a gimmick, but is semi-translucent and is a nice bonus. This light is worth the price just for the headlamp.

Reviewed by long pond from R.i. on Tuesday, February 4, 2014

Must push button twice quickly too have it work . Headlamp does a great job to light your way Bright lamp

Reviewed by John from Sag Harbor on Friday, January 24, 2014

do not waste your time go tie a flashlight to your head…read all the directions…If you want to use on the pulse setting then its a great buy…otherwise it does nothing else….defective

Reviewed by Marcus from Rogue Valley, Oregon on Monday, January 20, 2014

I am returning since I cannot reliably turn this light on. I have owned many headlamps over the years and have always been able to figure them out...Not this one!

Reviewed by Billy Eggs and Bacon from North Carolina on Sunday, January 19, 2014

I like both the headlamp and the drybag. the lamp is quite brite, but does seem just a tad flimsy where the pivot is. for the price, I can't complain. The practicality of the dry bag proved itself in the field. the light it kicks out is more than enough to light up a cooking area. My camping companion and I found it perfect for our needs. He liked it so much he's purchasing one himself. Let there be light!

Reviewed by Pack Time from Atlanta, GA on Monday, January 6, 2014

Brightest headlamp I've ever had. Been buying these for years, but this one has topped all the rest. Very secure band, sturdy, and bright. Love it.