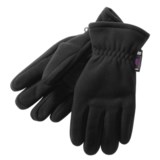 Closeouts. While their fleece exterior might feel like it's a "softy," Manzella's insulated fleece gloves are reinforced with the power of windproof Gore Windstopper® and 40g Thinsulate® insulation for protection from the cold.
Average Rating based on
200
reviews
4.385000
0
5
Reviewed by mesa8 from Texas on Sunday, March 2, 2014

These gloves are made from a thick, substantial material, and are comfortable and warm in cold weather. These are the ones to wear for shoveling snow. The size I selected using the sizing chart was a good fit.

Reviewed by sugar from california on Thursday, February 27, 2014

These gloves are very thick and will keep the hands warm for jobs that don't require finger dexterity.

Reviewed by Merlyn from Michigan on Tuesday, February 25, 2014

Finger length is too short (I purchased the XL size, to no avail); my rings cut into the flesh between the fingers because of this design flaw. The cheap stitching is already unraveling in places (at seams and where fingers bend). Unknown brand name and suede finish exterior is already shiney from contact with other surfaces. Certainly not worth twenty-five dollars!

Reviewed by GlyCERin from South Korea on Thursday, February 20, 2014

these have good value for money.

Reviewed by Chiefy from Staten Island, NY on Thursday, February 20, 2014

They are lightweight, but not waterproof.
They will keep your hands warm for driving or shoveling snow.
They are water resistant though.
They do get wet inside.
They are worth the money

Reviewed by Dr Phil from Virginia on Thursday, February 20, 2014

Very impressed with how warm the gloves are in a recent snow storm. If your looking for a heavy glove this is the one.

Reviewed by MrMoonbeam from Woodbury CT on Tuesday, February 18, 2014

I had a pair of these many years ago, which were replaced by another brand when they fell apart after use.
Those then, and now, were very good quality in terms of stitching and materials.
These current models seem to be much bulkier than those before, and occasionally make grasping objects difficult.
If you are looking for a pair to simply keep hands warm, or grab a shovel or steering wheel, the bulk doesn't get in the way.
But if you are trying to pick up or hold smaller items it does make things difficult and my fingers separate more than I prefer.

Ultimately, gloves are supposed to keep your hands warm, and this definately does that..
Between the windstopper fleece and the loft, I've had no issues with temps into the single digits, and that is without moving my body through some exercise to get things warmer.
My primary usage is getting to and from the car, and using these while driving.
I have from time to time used them during a walk around town, or on the trails without a problem.

My biggest complaint, as was with the prior model, was the cuffs are a bit too short.
I wish they were perhaps an inch or two longer for more coverage, as sometimes my wrists get exposed as I move around.
Furthermore there is little or no grip protection on the fingers or tips (only on the palm,) and I'm afraid the fleece will wear through depending on usage, but time will tell.

Sizing is great, and these fit my XL fingers just right - not too long nor too short as is often the case.

All in all a recommended glove but it could be better.

Reviewed by Outdoor Buff from Milwaukee, WI on Friday, February 14, 2014

These gloves are very comfortable. They will keep your hands warm in moderate weather. They are very warm and comfortable to the touch. With names like Gore and Thinsulate , you can not go wrong.



The return policy and rates of Sierra Trading Post can NOT be matched.

Reviewed by frankie from Texas on Thursday, February 13, 2014

Exactly what I wanted. Good price and good gloves.

Reviewed by frankie from Alabama on Thursday, February 13, 2014

I bought these gloves for general protection from the cold while driving, walking, and being outdoors. I wanted a warm insulated soft glove that was not too bulky and would fit in to wear to the office, shopping, church, etc. without looking too bulky or like I was going hunting or out to make a snow man. I did not want a lined leather dress glove but something a little more rugged. I am very pleased with the product. They are soft and provide great protection from the cold and wind while looking almost like a dress glove. I have large hands and it is difficult to find something like this in an extra large. These fit great. They met my expectations.