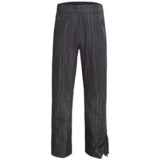 Closeouts. With a print straight from the red planet, Marker Mars Print shell ski pants have touched down to provide lightweight Gore-Tex® waterproof breathable protection on your next earthbound skiing mission.
Average Rating based on
15
reviews
3.533333
0
5
Verified Buyer

Reviewed by Phil from Australia on Monday, July 13, 2015

Marker's products are always of top quality and these pants are no exception. I got them at a great price from Sierra Trading Post. However, Marker's pants may not fit anyone who has an above average waistline. They are also a bit long. My size small pants would fit anyone with 30" waist line and 5"6 tall.

Reviewed by Villyh from Verona NJ on Wednesday, December 24, 2014

The pants are great, look good and keep you behind dry all day long rain or snow. They are technically shell pants, but actually have inner layer that becomes light insulation on the thighs and the seat for added warmth, very thoughtful of Marker. Highly recommended, just keep in mind that they are a bit on the larger side - I wear 31-32 jeans and S in these pants fits me perfectly (actually had to exchange M for an S). So if you have similar measurements and wonder if S will fit, they likely will.

Verified Buyer

Reviewed by Wiseeyeguy from Wisc. on Sunday, September 28, 2014

I tried the medium and were too snug at waist,
Large right at waist but legs too baggy for me, and just a bit too long.
Really wish they fit, but going back...

Reviewed by Utah powderhound from Pow Mow on Friday, August 1, 2014

I am 6'2" and 180 pounds. I ordered size large.
I wear a size 34" pants and need a belt for them most days.
I feel like if I were to gain two pounds, these pants wouldn't fit.

The length and width of the legs is great, but they are most likely Euro sized for a 170 pound man.
I would not be able to move around in these on the mountain without splitting the seams.

They do seem very warm, but I only wore them in the house before determining they are way too snug in the waist.
Pity as they had all the features I was looking for.

Verified Buyer

Reviewed by Marty from Park City, UT on Wednesday, April 9, 2014

Overall, these are well-made pants and offer a lot of value at the sale price ($123.xx). Based on other reviews, I thought I would need a Large size instead of my normal Medium (33 X 32) size. I actually ordered a pair in L and M just to make a side-by-side comparison. As expected from the other reviews, the Medium pants were just too small in the waist, even though they fit perfectly in all other areas. The Large pants fit good in the waist, but much too large everywhere else (inseam, rise and overall bagginess). BUMMER!

I wound up returning both and will continue looking.

Reviewed by bgd from New York on Wednesday, March 5, 2014

Was looking for for a pair of pants like these for a while now but couldn't find any green with some print design or graphics anywhere. I just love these pants! The color/pattern is very pleasant for the eyes, the fabric feels premium at touch and they are very light weight too. Regarding the size, yes, you guys are right, the waist is a bit smaller than usual but for someone like me 5'7" and approx 150 lbs the M size is a great fit.

Reviewed by Anon from Vt on Sunday, March 2, 2014

Took these to Vermont after receiving them this week. Pants fit well (with a belt) and kept me nice and dry.
With a great base layer these will have you covered in light to medium cold conditions.

Reviewed by Capn Flap from Snowbird Utah on Thursday, January 9, 2014

Nice details (pockets, zippers, leg snow cuffs) and quality. Color and pattern bright & cheery for that special day. BUT.... the sizing is grossly wrong!! I bought 2 pair (blue and black) in a LARGE size (36-38 inch waist), but the actual size is no more than MEDIUM or less! These pants must have been "mis-manufactured" in waist size!! I dare not exchange for XL size because the leg length would be too long. I'm going to return these pants for credit, and not even try XL size. That's too bad for me since I bought these as "Barn Burner" specials with very attractive pricing.

Reviewed by SkiPC from Deer Valley on Thursday, January 9, 2014

This is typical of Marker; it's almost like their sizing is for women. And, don't trust their size chart. I bought these pants in L, and their chart says 36 - 38" waist, but I measured them, and they are just under 36", and can only be adjusted to be smaller. The hips and legs are sized as other L ski pants, or slightly looser, but the waist is tight. If I were to buy an XL, they'd to too big everywhere but the waist.

I have Spyder, Ride, 686, Sessions, North Face, and HeliHansen ski pants, and all those fit fine in L. Columbia runs large, so I wear a M in those.

It's a bummer I have to send them back, as the fabric (waterproof with no insulation, which is typical for Gore-Tex pants) would be great for those wet snowy spring days.

Reviewed by Snowman8 from Detroit on Saturday, January 4, 2014

I pulled these out of the box and couldn't believe how attactive they are. The SBT picture doesn't do these pants justice. OK, now to try them on. Sucking in my 32" stomach that may have expanded a bit during the holidays, I finally got them snapped. SBT says waist "33-24". No way! OK, if I go down to my summer weight, they'll fit. But, I don't ski in the summer. I won't be able to get a layer of anything warm under them. So, back they go.