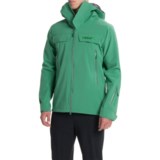 Closeouts. Take one more run -- and then a few more after that-- in the Marker Pumphouse ski jacket. Designed to keep you dry, the Polartec® NeoShell® waterproof breathable shell locks out moisture but allows perspiration to escape from inside.
Average Rating based on
10
reviews
4.700000
0
5
Reviewed by Trader x from Eastern PA on Friday, April 7, 2017

Finally got a polartec neoshell jacket at a fraction of what it usually costs. This jacket is very similar to the Marmot Storm King jacket. The Storm King jacket is a bit more user friendly imo and more expensive. The material is excellent, being stretchy and has a soft hand. The fit is true and athletic. Not taking off a star for the main zipper flap since it's a preference thing and all the top ski apparel manufacturers were doing it to their jackets a couple of years ago, including Obermeyer, Rossignol, and Salomon to name a few. Thanks STP again for offering this jacket at this clearance price.

Verified Buyer

Reviewed by Dr.JCO from Vermont on Monday, March 27, 2017

Comfy, warm, waterproof, breathable and stylin' - what more could you ask for?

Pockets are HUGE - no problem carry skins or extra gloves etc for those cold days.

Sizing is slightly large (but better than other way). I'm 6'3" 210lbs and the XL fits with room for layers underneath.

Verified Buyer

Reviewed by dannymarkow from Idaho on Tuesday, January 24, 2017

Had this jacket out in a storm last weekend and it held up great.
Spent one day in the back country and the front pockets worked perfect for keeping my skins.

Verified Buyer

Reviewed by AB from Atlanta on Wednesday, January 11, 2017

Very soft high quality material. Fit is true to size. Side pockets are huge. Chest pockets fit iphone 6 and zip. All zips are taped. Feels truly storm proof. Chin zip goes up high, easy to put your chin down and cover face up to goggle on the lift. Hood adjusts well.

Verified Buyer

Reviewed by DA Nelson from Wisconsin on Monday, December 26, 2016

What I really like about this jacket is its ability to allow movement. I just returned from a 5 day ski trip to Colorado and brought two jackets to compare. The Polartec material allows for free movement while skiing and is quite form fitting. I'm an aggressive skier and it did what I expected it to do - more so than nylon style jackets. In addition, the material was windproof and I needed a base layer shirt and one insulated jacket. I fall between a medium and a large and went with the medium and it fit well both in chest and arm length. It did not snow or rain so I cannot judge the ability to be waterproof. My reason for not giving it a five is the collar which others have noted is a little funky when not zipped up all the way. The yellow color was definietly "old school" and received many positive comments.

Verified Buyer

Reviewed by Rick the ski addict from CA on Tuesday, November 29, 2016

I ordered this jacket along with the Marker Freel, with the intention of keeping one or both. The Freel was just meh, just another ordinary hard shell, so it went back, while the Pumphouse impressed me with its soft feel and good looks. I skied in it (resort skiing) 6 days so far, and it is now my favorite. I thought I would use it only on warmer days since Neoshell is not completely wind proof- that's the tradeoff for its excellent breathability- but it did just fine on cold windy chairlift rides as well. My other jacket, which is a hard shell with 20k breathability rating (compared to the Pumphouse 10k rating), is now 2nd fiddle since it doesn't breath as well. Go figure.
Pros:
1. Very breathable fabric. I run hot skiing down, and cold on the ride up. The Neoshell lets sweat escape so layers underneath don't get soaked.
2. The high collar covers my neck and mouth on the cold windy chairlift ride back up.
3. Build quality is excellent, and the color looks great. I got the Orange.
4. Pocket placement is perfect. Sleeve pocket holds ski pass, and the other pockets hold cell phone and other essentials. Hand pockets double as vents.
5. Trim fit.

Cons:
1. Hood needs to be bigger so it will stay put over a helmet.
2. No inner sleeve with thumb holes - these would be nice for added warmth, and to prevent the sleeve from riding up in case of a nasty slide down a steep icy slope.

Sizing: I am 5-6", 130 lb, with shoulders, no gut, and the small fits great, with room for layers; enough room in the shoulders and not too baggy in the gut like many other jackets.


Verified Buyer

Reviewed by Jeff from CT on Thursday, November 24, 2016

The jacket seems like a fairly nice softshell jacket. The polartec material seems pretty durable, the hood well adapted for a helmet (a bit weird without one as another recomender mentioned), and overall the quality seemed good.

In terms of other details, the pockets have mesh material behind them, so while there are no pit vents, I imagine these would be letting lots of air under the jacket, especially while moving. However, other than the two front pockets on the chest, the larger hand pockets wouldn't be good for storing anything.

I wanted to keep this jacket, but sizing was a bit off for me. I'm 6'3" 165lbs, and the medium was nice and trim but just a hair short to be used over insulating layers as a winter shell for me, and the large was significantly larger in the body to the point that it was not trim at all on me.

Verified Buyer

Reviewed by Bryce from Oregon on Thursday, November 24, 2016

I've always struggled with ski jackets. I run hot and sweat like crazy. Even when it gets really cold, I almost always ski in just a base layer and an uninsulated shell. I've tried other waterproof/breathable jackets and materials (GoreTex 2-layer, GoreTex Pro, Event, DryQ, etc.) and none of them actually ventilate very well. Though the reported vapor/air permeability levels on those fabrics may be high (15,000, 20,000), I think there is a big difference in the reported permeability and how the materials actually perform. A waterproof jacket is of little use in the real world if you still end up taking a bath in your own sweat.

Enter Polartec Neoshell. I am now a softshell convert. This thing has air/vapor permeability that is soooo much better than any of my other ski jackets. The durable water repellent finish on the softshell material may not be as good as GoreTex Pro for waterproofing, but it is good enough for cold weather skiing. I would not want to wear this jacket in warmer weather, torrential rain for extended periods (the DWR would certainly fail at some point), but I wouldn't intentionally go out in those conditions anyway, and if I got caught out in those conditions, I'd rather be using a high quality poncho to provide the combination of stellar waterproofing with abundant ventilation (which beats out material breathability anyway).

As far as they other features of this jacket, they are all good. The jacket is comfortable, fits well and has quality zippers and other features. Yes, the stiff, high collar could be a bit annoying if the jacket were being worn casually, but I wouldn't wear this jacket casually anyway, so it's not a concern for me. That high, stiff collar is actually perfect for skiing since it eliminates the need for a neck gator or anything on my lower face.

In all, this is a great jacket at a great price.

Verified Buyer

Reviewed by Benny the camper from Michigan on Wednesday, November 16, 2016

Great fitting jacket that feels ready for the mountain. As mentioned in the other review, the collar is a little weird when not zipped all the way up, but if you're layering with anything that has its own collar, it is not an issue. Soft brushed interior makes the jacket feel cozy and weather proof. All the seems are taped, the hood offers plenty of adjustment to keep water out. The pockets are massive, extending all the way to the hem. This jacket has stood up to November rains and seems to be up to the task of a long Michigan winter.

Reviewed by Benny the camper from Michigan on Wednesday, October 26, 2016

Male: 6'0" ~210lbs, fit-ish. Purchased, wore around for a day and returned. Comfy fabric that slides easily over insulating layers. Feels heavy for a shell, compared to my Columbia Loch Lomand (but they are apples and oranges) Fit is trim, with sleeves cut long which I assume would be perfect on the mountain. The collar is the reason I'm returning it. It is massive. Feels heavy around your neck and sits oddly unless you have the hood up. Lots of room when you zip it all the way up means your warm and protected on the mountain, but around town it pulls and gets in the way. The main pockets are massive, mesh that extend to the bottom hem. Chest pockets have the over flap, one with a velcro closure the other is zippered. Powder skirt is grippy and removable. Overall this is a well made, but over engineered jacket. Swapping it for Marker Freel.