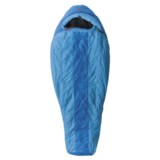 Closeouts. Marmot's Flathead sleeping bag is crafted with lightweight 600 fill power goose down that provides warmth down to 20°F and easily compresses for maximum packability on the trail.
Average Rating based on
33
reviews
4.393939
0
5
Verified Buyer

Reviewed by Global Trekker from California on Sunday, June 15, 2014

I recently used my new Marmot bag on a camping trip in the Colorado Rockies and was very happy with it! It was comfortable, with enough space to shove clothes at my feet/down the side to keep warm for the morning; it was easy to move around in when changing position and easy to quickly get in and out of. Most importantly - it was very warm! I can easily pack it away in the travel bag and the storage bag allows me to keep it safe when not using it. A great purchase.

Verified Buyer

Reviewed by Sarah from Fairbanks, AK on Monday, May 26, 2014

I took this backpacking for the first time over the weekend. It didn't come with a compression bag so I purchased one to get it small enough. It was in the 30s and I stayed warm. I'm 5'2" and I was very pleased with the length too. And I love the color.

Reviewed by Cold Natured from Albuquerque on Wednesday, May 21, 2014

I spent 3 nights with this bag with evenings in the high 40's. It wasn't warm enough for me. I can't imagine being out in it in 20 degree weather. My boyfriend also has a 20 degree down bag, and his is much thicker - it has more down in it. For warmer weather it would be good - it's a good size for me - I'm 5'2" and packs up very small. But I'm sending it back.



Verified Buyer

Reviewed by MiaMia from Az. on Monday, April 7, 2014

This marmot down bag is beautiful. It looks so much better than the picture and seems plenty warm enough. Before I ordered I read the reviews and was concerned about the "cold spots" one reviewer mentioned. When I first got it I noticed that it was totally flat in a spot at the shoulder area but fluffing it worked for me and now the loft seems evenly distributed. Sizewise too it's great since I am only 5'2"...not sure how it would work for tall women. I'm really glad I ordered this bag and know I'll keep it a long time.

Reviewed by LauraK from Ventura, Ca on Sunday, January 19, 2014

I haven't used it yet but it looks great. Its light and warm. I plan to use on our family hiking trip. I will write a better review after I use it.

Reviewed by DC the Goatherd from SW Virginia mountains on Friday, January 3, 2014

I have not camped with this bag yet, but I test-drove it standing on the porch at 23 degrees fahrenheit for awhile. The zipper was smooth, the zipper baffling was very effective, and the hood pulled up neatly around my face leaving me a hole to breath while keeping my head warm. I'm a little puzzled at the ample room in the torso area, since women don't tend to require as much "barrel" room as men. The foot box was about right for some movement while avoiding empty cold space.

Length-wise, this is pretty accurately described as being for up to 5'6". I am barely over 5'7" and just fit comfortably (I actually bought this for my son, who needs a down bag but can't find a good one sized for a 10-year old).

Weight-wise seems a little heavier and bulkier than my own down bag, but still fits inside my son's narrow youth backpack. The compression sack seems made to last. There's also a storage sack for keeping the bag clean and fluffed between uses.

I anticipate getting a lot of use out of this until my son graduates to a men's adult-sized bag. And I think he'll be comfortable camping from late March well into November, assuming a good insulating ground pad.

Reviewed by mora from california on Monday, December 30, 2013

Purchased this sleeping bag based on the overwhelming positive reviews. However I have to say that I experience LOTS of cold spots with this bag regardless of how much I shaked and fluffed the bag. On many areas the down is so flat that is it like having none at all. In comparaison I also have the Haglofs Hypna 2S and although it is rated at 30 degree, it is far warmer because there is no problems with cold spots. The Haglofs 2S is definitely a lot more expensive but a far better qualiity product. The bag always fuffs up to a comfy cocoon no matter how many times it has been compressed. I would recommend the later one based on experience with it. It is far better made, and feels a lot more comfy if you can afford it.

Reviewed by dachswan from North Dakota on Thursday, November 14, 2013

My husband and I ordered the men's and women's Flathead bags for cooler-weather camping. It is an awesome bag for the colder temps. We have used them twice--both times the nighttime temp was in the 20s (F) with freezing rain and we were both plenty warm. I am typically a very "warm" sleeper, so this bag will be way too hot for Summer and warmer Fall and Spring weather (anything above 40 degrees for me).

As far as specifics, I'm about 5' 2", and I have tons of room length and width-wise. The two-way zipper is great for extra foot ventilation. The zipper seems to get caught somewhat easily in the surrounding fabric, which is the only reason I didn't give it 5 stars.

Reviewed by MTHiker from Montana on Monday, September 16, 2013

I tried this out on the Beaverhead Mountains on a night that was incredibly windy with temps in the high 30s or very low 40s. I had a Term-A-Rest 5.1 R-rated pad under it. I was so warm by the middle of the night that I shed all my warm sleeping clothes. I think this will be a true 20 degree bag, and I normally sleep cold. At 5'2" and 115 pounds, I had room for clothes at my feet to warm for the morning, although very little room to do anything but sleep straight on my back or straight sideways with a slight Knee bend.

Reviewed by Farmer mom. from New Mexico on Wednesday, August 14, 2013

These kept us warm in 40 degree nights, high altitude in August. Not sure they would get us down to 20 degrees however. Nice bag for the price, but the women's normal is very small, only 5' 6". I'm keeping these for my kids,but I would order a women's long for myself if I had it to do over again. I'm 5'5" and the normal seemed small/tight.