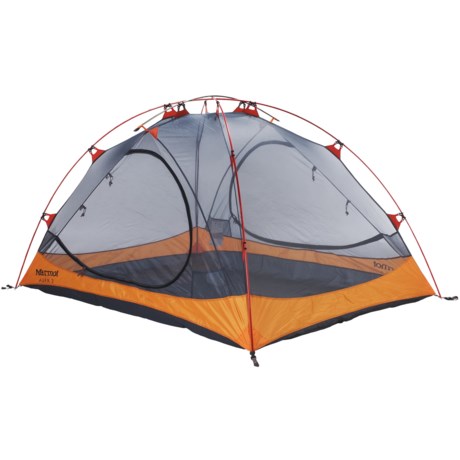 Never seen a marmot tent with 4 pockets. My advice is to buy a gear loft from Marmot. 30 dollars probably lower. It will give you more storage. Regarding the bent pole; that is how it is made so don't panic. All good.

Small tents like this one are designed for backpacking so the pockets are situated head to toe sleep. Like I said before gear loft will give you extra space.

Regarding the pole that goes door-to-door, it was manufactured bent to allow it to be placed above the peak of the other two corner-to-corner poles. If it was straight it would put too much pressure on the attachment points.

Regarding the pockets, my tent also only has two pockets. When I looked at the picture on the STP listing, I only see two pockets on the tent. Based on the zipper placement, I don't think that 2 other similarly placed pockets would fit.

There are two pockets mate... recommend looking for a gear loft if you'd like more storage options. The short pole is bent by design. Hope this helps!

Thank you all for answering my questions. It's great to know that it's not factory defect!

I have purchased three of these tents, and all were manufactured a bit differently from the others. All function extremely well in the field. The ridge pole that supports the rainfly is slightly arced in oder to support an arc in the fly. This stretches the material taunt and avoids having rainwater pool up on the tent's top.


I, too, bought this tent and am VERY satisfied with it. Mine also only has two pockets. I didn't notice whether the STP picture or description noted four pockets. Four pockets in a tent would be highly unusual, however. I don't think I've ever seen one with four! As to the top, short pole.... it does have a very slight curve to it. that's meant to be. It should not be "very bent"; just modestly curved. All STP items are new as far as I know. I just rteturned from a 2 -1/2 week kayak trip along the wilderness coast of NW Vancouver Island using this tent and found it perfect in every regard. I hope you'll enjoy yours as much.

I have a Marmot Titan 3 tent (the Ajax 3's predecessor, which was made with the exact same floorplan/configuration, and also previously available through STP). It DOES have FOUR pockets -- one on each side of the door, on both sides of the tent. A nice, convenient, but not critical, feature. And, yes...the current photo of the Ajax 3 on the STP website (as of July '16) appears to show four pockets, as well...