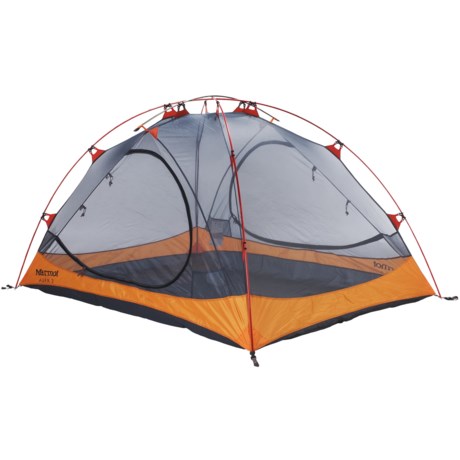 First of all I went to college at FSU in Tallahassee! Second, this tent does not have a footprint and Marmot doesn't make one. However, if you go to a home improvement store and by visqueen plastic you can cut out a footprint to the exact shape you need. 3.5 mil visqueen goes for about $15 for 10 X 25 feet and then you have extra in case you have to replace it. No grommets in the footprint though so that is a drawback. Hope this helps.

try the limelight

I found an marmot ajax 3 compatible footprint at www.gofastlite.com

Marmot makes a footprint for their Limelight 3 tent, and it is a close approximation of the floor size for the Ajax 3 (and Titan 3, before that) tent. The Limelight footprint's existing grommets are a bit too loose for the Ajax/Titan but, for a few dollars, one can obtain a grommet installation kit and place new holes/grommets in the Limelight footprint tabs making for a snugger fit and a workable footprint...