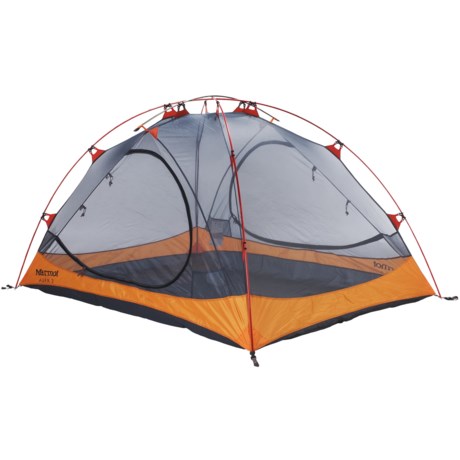 5 stars BUT... (review update)
Reviewed by hike bike cook from seattle on Monday, March 28, 2016
ok, so i reviewed this tent before and I'm reviewing it again. I still give it 5 stars, because I love the tent, but, it is clearly for specific applications and some of the specs on STP are just not correct.

1: there is no way this tent is 93x66" sized on the floor. I just set ours up and tape measured and i got 62" on the floor from seam to seam (and those seams are off the ground when tent is pitched, so realistic numbers are in the high 50's) also, its not 93" long inside. BUT, that said, its a super comfy 2 person tent. 3 people? you'd be working very hard to get 3 x 20" sleeping pads in there at all... maybe two adults and an infant or a pet (pets count as people, right?) Still, you can sit up comfortably in this tent, and it is a fantastic 2 person option.

2: 6lbs 2oz is a wishful thinking number, and if you include stakes and lines and a footprint, you're going to be well over 7 lbs. BUT... you can leave stuff sacks at home and get it bare bones it MIGHT get close to that number. Also, we just set it up in our back yard with the footprint (not included), fly, and poles only and then you have a sub 4 lb roomy shelter. Of course, this style is quite exposed with no bug or critter protection and water could splash in under the fly as well, but the option does exist.

3: I've taken this tent to backcountry Alaska (yeah, it was heavy) and the backcountry in the PNW and its a great tent. It's a great car camping and heavier but roomy backcountry option. it's also a *super* quick, simple set up, good protection from the elements, has a durable build and is priced extremely well for what it is.

We will probably get a lighter, tighter, more expensive backpacking tent, but this is a solid tent and we will likely keep it as well. we may even opt to carry it in our packs when we want extra room and don't have a ton of other heavy gear to take. so, still 5 stars, but take the weight/space measurements with a giant grain of salt.
Most helpful positive reviews
Most helpful negative reviews
Similar items and more information in the following areas: