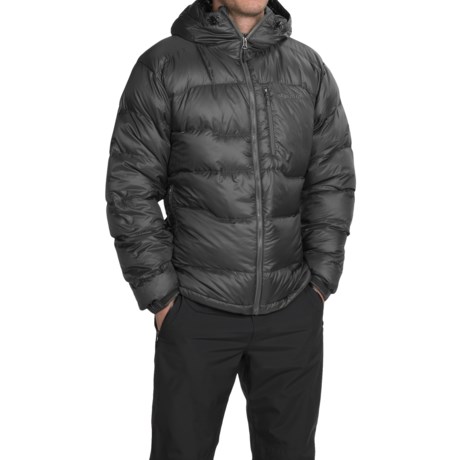 I just put this coat through it's first winter in Michigan, and it was better than what I had hoped for. The 800 fill insulation kept me warm in single digit weather with only a base layer and long sleeve shirt under it. It's lightweight, extremely packable ( packs into its own pocket), and can cinch tight at the waist for windy days. Overall, a great coat. The 800 fill simply means it has a very high warmth to weight. You get a ton of warmth from a light, packable, jacket.

I Have a 4 Marmot Jackets this Is the Highest 800 and the Warmest of all My Downs and it's really Warm

I Have a 4 Marmot Jackets this Is the Highest 800 and the Warmest of all My Downs and it's really Warm

???????????????? ??10??????

I bought mine this winter for use when it gets cold here in Minnesota. I only wore it when the temps were at or below 5 degrees (F); it was too warm for other temps. Keep in mind that I tend to run pretty warm and primarily used it for commuting. But there were days when I walked for 10-15 minutes at temps of down to -10, and I was very comfortable, with nothing below it other than a dress shirt and t-shirt. Hope that helps!

The higher the loft, the more insulting. Very warm and comfortable. Get a MARMOT Gortex jacket to make it waterproof and windproof. It fits with mine perfectly. Look for a shell that has pit-zips. The down jacket is warm enough that you may want to have some form of regulating that before sweating. Based on age and physical activity.I have been out in ZERO F. and my core was getting a bit warm. I was walking. The tight weave tends to restrict the wind a bit, but you should have a Gortex shell. Wind and water proof, breathable, with pit zips and hood. When it is just wet and not that cold, the shell will guard you from the weather conditions, wet and windy. Stay away from cottons in the winter. Layer with polypropylene, fleece. merino wool. These all wick moisture and dry incredible fast. You can overheat and sweat moisture into the down. Keep a constant mind on your body. Remove what you need to remove and stay comfortably dry. It sometimes can be best to take the down off. This jacket is weightless and can fold into a small pkg. I am a major outdoors person and must depend on my gear performance. Marmot is at the top for quality outdoor gear.

David,

I live in Traverse City Michigan, located in the north west lower peninsula, so I know what cold and snow is like.

I can assure you that, if the fit is correct (not to loose), your son will be very happy with the coat. I particularly like the attached hood which fits very well.

The Ama Dablam jacket is my second Marmot down. My first Marmot down jacket does not have a hood and I prefer the hooded version when the weather is really cold.

You are correct in thinking the jacket appears too light weight to be so warm, but looks are deceiving.

Sincerely,

Tom DeGrow
Traverse City, MI

Its pretty warm. I was wearing it on top of the short-sleeve T-shirt at 25-28F and did not feel any cold. We did not have lower temps in Atlanta :-)
I would trust this jacket to be ok up to single digits but with layering underneath. - Alex

I am in Michigan and this is a very warm down jacket. I wore it down into the teens with just a t shirt. If layered it can easily go below zero. It is certainly not waterproof; but no down coat is. It is just as warm as 550/or 650 fill down jackets that are twice as thick because of the very high warmth to weight ratio of 800 fill down. You could get a windproof waterproof North face down jacket that is warmer but it will also be much heavier and only good for really cold days, sweaty on any days above freezing.. This jacket can be used from 55 degrees all the way down to as cold as it gets in IL. I think it is a good choice for your son. I don't believe there is metric but the higher fill count down insulates in an amazing way.

David,
I also purchased this coat for my son who goes to U of Minnesota. He takes the bus in the morning and (long) walks outside to get to classes. I got it for him a few weeks ago but he was able to use it on a few subzero days and he was very happy with it. Of course, he does wear a hoodie under the coat. He kept saying the coat was so light and warm. One time we were out shoveling snow and the wind gust must be about 30 miles per hour and he said he did not feel the effect of the wind at all. I will purchase another one for my younger son. I hope this help.

Hai

An Indiana winter is very similar. I found it warm enough this winter. It also depends upon what you wear with it. When we had days with single digit highs this winter I would wear a warm hat, scarf, undershirt and shirt or sweater in order to keep warm. The jacket is very lightweight but I found it warm. If I had a job where I stood outside for hours it might not be enough but for walking around campus (I work on one) or hiking it is fine. I also have a Columbia hooded coat with a zip out fleece liner and the down jacket is much warmer.


I think it's best to think about this as a "mid-weight" down jacket. It is considerably warmer than the new breed of "small baffle" jackets like the Mountain Hardwear Ghost Whisperer, but not as warm as a really big puffy jacket. With a shirt and sweater (nothing technical), my Ama Dablam gets me down to around 20 degrees in comfort. Below that, I layer it with a thin insulated piece (in my case a Marmot Isotherm), and I'm good to around zero.

First, throw out the 800 down rating as having anything to do with warmth. That rating is for how much the down will loft when uncompressed and gives you an idea of how small the jacket will pack down. The key number in warmth is the amount of down used. This coat is thin and is not really a stand alone extreme cold weather coat in my opinion. Please keep in mind warmth is a very subjective thing. The numbers below are for me, an estimate and based on a dry day.

50 degree days, I would never wear this coat. It would be way too warm.

40 degree days, this coat is fine on it's own and in fact would be toasty.

30 degree days, would require a fleece mid layer if you are inactive, but would be perfect for mild activity.

20 degree days, this coat needs a fleece and a wind breaker for inactive and is perfect for backpacking.

10 degree days, this is where the coat starts to get a little too light for inactive use but is still good for backpacking.

5 degrees setting at a football game, this coat is not adequate.

5 degrees hiking with a 40lb pack, this coat works, but I was still a little cold until about the three mile mark.


I was at first disappointed with this coat myself, but after giving it a fair shot, I have used it a lot. It is not a tailgating, football game, fishing coat. But if you are active it is very nice and that light weight gets pretty beneficial on the trail. It also makes a great foot warmer in the sleeping bag and a heck of a pillow.

For reference, I am a sixty year old man, a cool to cold sleeper and like my house about sixty eight degrees in the winter. A younger person may find this coat much more suitable for college activity. Plus it is a great looking coat that should fit any social event.

I've not spent a winter in Illinois, but I do live Kansas City where we get plenty of temps below 20, even wind chills below 0. We get snow, ice, and just plain cold weather. I always wear Icebreaker underwear, and with regular clothes, this coat is good for around 20 degrees if you're walking. Maybe 30, if you're sitting still. Additional wool, or synthetic layers underneath can help extend this coat to cover the colder temps. That's part of the reason the sleeves seem so baggy, so as to allow layering. I walk 2.5 miles a day in all kinds of weather, and this coat works (as described above) in all but the coldest weather. You'll have to decide for yourself, but it's a great bargain for "most" conditions.

Heavier fill volumes can be found in jackets from other brands (like Westcomb, for example), but they are also much more expensive -- just in the name of full disclosure I have the Westcomb Himalaya for when I go to football games in the middle of December!

It's warm enough if you layer properly. I took this jacket to Missouri this past winter where it was single digits at night and 20s during the day. I layered with a long sleeve base layer during the day and added my marmot variant jacket underneath the ama Dablam as an extra insulation layer at night and I was toasty the whole time. It didn't rain or snow when I was there, but if it did I had a waterproof outer shell ready. The Ama Dablam by itself isn't great in a downpour. With a shell however, you are set for all weather conditions above subzero with proper layering.

I wore it today and it was just above freezing. When I started walking I had to take it off. It is really warm.

I am amazed how warm this jacket is. I wore it on the coldest days with layers, and walked 20 mins to the office regularly in single digits. It is not a long jacket, but that was OK with me. It is extremely light weight and allows for good movement--and very warm.

This coat is not very warm at all as there is hardly any insulation in it. Most of the reviews seem way off to me. People who say they are comfortable around 0 degrees are nuts. The jacket is paper thin.

I can use it around 35 degrees and up.
I bought it to replace a torn up north face nuptse down jacket, which was a good combo of warm and light.
Unfort this marmot jacket isn't warm enough to replace the north face. I guess I'll just use it in the fall.