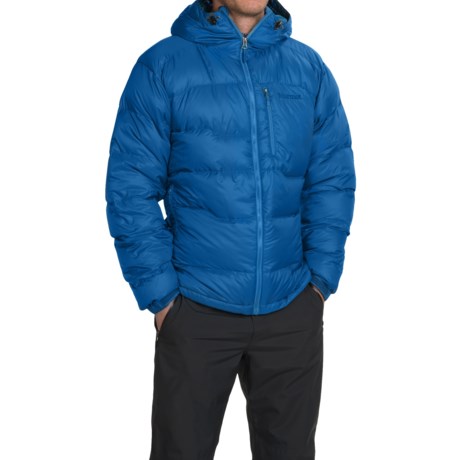 This is typical Marmot fit: larger in the chest and shoulders, and normal in the waist. In most Marmot coats, I need a Medium (38 chest, 32 waist), but in this one, a small fits. Even with the small, the shoulders and arms are big and floppy. You might try a small, particularly if you like a snug fit.

Jacket Runs Big But it does have a Draw String to tighten up Waist

I would say this is more of a roomy cut. If you like a slim athletic cut, I would check some other styles.

I have a large. However, there are elastisized cords at the waist and velcro tightening straps around the wrist. The hood is connected to the jacket and cannot be rolled up perse. I found that I could lay the hood on the inside of the jacket if I needed to. The hood has elastisized cords to adjust the face and hood fit in all directions.

I don't think you will want to layer much beneath this jacket. Polypro underwear to wick the moisture away from the body and adds additional insulation. (Which may not be needed) An outer shell, preferably gortex, to make this garment water and wind proof. The skin of the jacket does a very good job in keeping the down in, and it is more highly repellent to water than those of the past. This skin is very light and allows the 800 Fill Down to remain expanded, better insulation. As far as "slender" or "large belly" persons. You are more in the middle if I had to guess. You do have adjustability for closing off any drafts. Two outside zip pockets and one large inside zip pocket.

I have been a Habidasher and speak from experience from clothing "Jocks" properly. It is not often easy with such a build. I also have made my living in the outdoors for over 35 years. There is a very good reason I use Marmot clothing and gear. I have a Marmot Goretex outer shell that does not crush the down. I have two Marmot Sleeping Bags, and the best tent Marmot ever designed, the "Swallow". I do not work for, nor am I paid to give my professional advice.

I normally wear a large Marmot jacket, but a reviewer suggested the jacket was quite roomy so I ordered a medium and happy I did. I have a 44 inch chest and not so narrow 36 inch waist with athletic build. The jacket fits snug but comfortable and very warm.


I consider this jacket to be better for a slender build. I'm 6' 2", 215 lbs, with a 34" waist and 44" chest, and found that the large size fit best (I originally bought the XL and had to return it, because it seemed huge). The large size still allows me to wear a base layer and light weight fleece underneath, but nothing more, and that's fine because I like the snug fit, seems to hold in the warmth better, which it does very well. It sounds like a medium would work with your body type, however you may find it snug in the chest area like I did, but for me this snugness wasn't constricting.