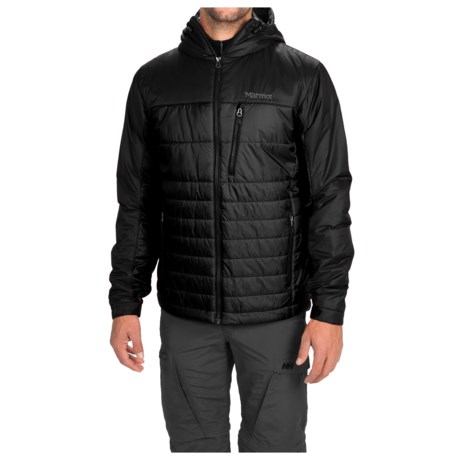 The older version (with hood adjustments) is not highly compressible like down. The newer style version is much lighter and is a bit closer to down in terms of compressibility. I had both in my possession when I bought. The older version is a more substantial jacket with a fantastic good. It's also a bit longer in the torso and roomier in the chest then the newer version.

It will pack down fairly small. However there is no Pocket it packs into like some other specific packable jackets. You could put it into a separate stuff sack. I tuck it into it's hood and cinch it down for packing purposes, works ok.

We bought a stuff sack at REI for it. The bag is about 9" high and about 4.5 - 5" across. (it's a cylinder shape) I think it would've fit in a smaller one but it packs in this size easily.

This is not specifically listed as packable, but it is decently packable.

It's packable, but not as small as Mountain Hardwear Ghost Whisperer. Actually, I have not tried stuffing it in its own pocket, just the backpack. Great jacket at a bargain price.

Good question, but tough to answer. The jacket is packable and gets "pretty" small, but it is not as small or light as down. I know that is vague, but I hope that helps.