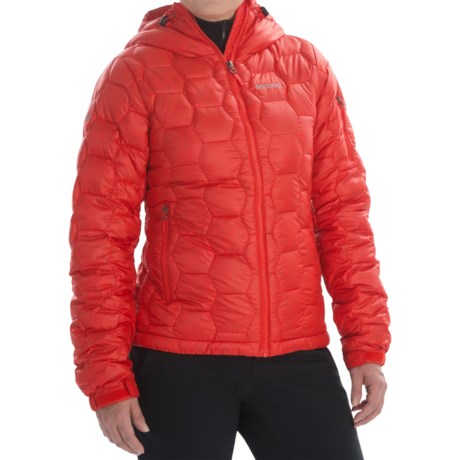 I am 5'2" and 125 with muscular shoulders. I wear the medium with a sweater underneath and it is perfect. The jacket fits perfectly in the arms and body. I get SO many compliments on the teal blue color. I highly recommend this jacket.

I'm 5'7" and 122# and not too much bust and fairly thin arms. I just tried on the jacket while wearing a heavy sweat & a lightweight down jacket and although it was a lot of clothes I could easily zip up the front and bend my arms. With just the sweater or down jacket it's comfortably roomy for me.

If you hover your mouse over or click on the sizes the corresponding numeric size will be displayed.

If you like wearing a substantial layer under your jacket, I'd suggest that you order an M. Marmot's jackets are pretty trim-cut; and I made a mistake earlier ordering an M -- my usual jacket size. I could get it on -- but just barely -- and only over a thin shirt. Going for an L with the Julia jacket has allowed me to layer up, with room to spare!

I am 5'7" and 130 # and wear S or M also. But I bought M as I also wear more under my jacket. I had a long sleeve shirt and fuzzy fleece jacket under, and it had right amount of room. If you plan to wear more under, it is good to go with M especially if you live in a cold place. If you just plant to wear a tank or t-shirt to go for a workout, M would be too big. Also, the bottom of my jacket comes to my hip. Even if zipped, M is a little big and cold air comes in unless I wear more. I wear size 2-4. So if you have smaller waist, that is something you may want to consider also.