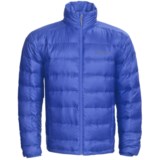 Closeouts. The ultralight, downproof fabric and super-fine goose down of Marmot's Odin down jacket keeps you toasty on cold days, and the jacket easily packs into its own pocket to conveniently go anywhere you do.
Average Rating based on
64
reviews
4.406250
0
5
Reviewed by SkierExplorer from Minnesota on Monday, May 18, 2015

A nice fitting, light weight and comfortable jacket. However the zipper broke part way into the first season and the nylon material is very fragile and easily punctures. Additionally, it is difficult to work with Marmot on getting repairs as well. Maybe more of a hip urban coat and less of a piece of long lasting technical gear for use outdoors.

Reviewed by Phil Smith from Maine on Thursday, February 19, 2015

I love this jacket! It's incredibly warm for something that's more the size of a down sweater, and it layers well under my shells. There aren't many features - just 2 handwarmer pockets and 2 interior pockets that double as pouches to pack the jacket into - but for how light, warm, and inexpensive it is at the STP price I don't care. Everyone says it looks great, and I've actually had people at a bar to offer to buy it from me. I got the safety green, though, so maybe they just wanted to make the place a little dimmer for drinking.

It does leak feathers now & then, and there's no lateral baffling to prevent the down from shifting. Giving it a good shaking seems to help even things out. The fabric is very thin and snags turn into tears relatively easy, but I don't think anyone is expecting Carhartt durability from it.

It fits very nicely into my MH Snowtastic 28 pack, either stuffed into its own pocket or just jammed in, and is perfect to keep the chill off when you take a break while snowshoeing. If STP ever gets more in stock, I"ll be buying at least 1 more for myself and maybe a couple for some friends.

Reviewed by Phil Smith from Maine on Sunday, November 30, 2014

I'm updating my gear and had been looking for a lightweight down jacket for layering for quite some time. When I saw this on STP I jumped on it, the price was very nice and the coupon offer made it even better. I like the jacket very much, it's comfortable, warm, lightweight, and all my friends say it looks very good. It's small enough that I'm not swimming in it when I wear it over just a shirt, but large enough to layer over a fleece. Put a wind & rain shell over it and you're ready for anything. It stows in its own inside pocket, and takes up about as much room in your pack as a pair of gloves. This is not a big, puffy jacket, I've seen others of this type described as "down sweaters" and that's a very good description. It'd be great for those cool fall or spring nights sitting around the fire, summer nights in the mountains or high desert, or as a lightweight layer for winter activities, but don't expect to wear it alone and be warm in subzero temps. I'll definitely buy another one of these in a different color if they're made available again.

Verified Buyer

Reviewed by James Heng from De on Sunday, June 29, 2014



It weighs almost nothing, and yet keeps me perfectly warm and comfortable. The material is really soft and lightweight, and it breathes just the right amount. The down filling is the perfect amount - not too stuffy or too scarce. The elastic around the wrists is slightly looser than my wrists so it's comfortable while still keeping the jacket on. The zipper is durable and glides easily.

Couldn't be happier with this purchase.

Verified Buyer

Reviewed by Teacher by Day from Taos, NM on Wednesday, May 14, 2014

I love this jacket. I was taken back with how light weight it is when I initially tried it on. However, I quickly realized its value when it snowed six inches in this week (middle of May!). The temperature dropped down to 23 degrees and all I had was a t-shirt. Odin kept me very and comfortable. The size and fit are true to the specs. I am extremely happy with this jacket.

Reviewed by AJ from Michigan on Monday, March 24, 2014

Even though the jacket is an 800 fill construction, it is still a very thin jacket overall. It is not as warm as other jackets that I own with less fill count (Marmot Guides Down 650). It is packable. My main concern is that the outer shell is very thin and you can actually see the down feathers through it making it look like it is a variety of colors or stained. I have had several people ask me if it was raining outside because of the dark gray areas from the feathers that show through the orange color. It does fit true to size in XXL. I would not expect this material to hold up really well if exposed to a lot of friction or sticks and sharp rocks. A good mid weight coat but not heavy enough for long wear outside on a winter day. No closable inside pockets is another minus. You just have the stuff/pack pockets.

Reviewed by Mr Chupa from IL on Thursday, February 27, 2014

I wear size XL comfortably. Went with XXL for this jacket. When I tried it on with T-Shirt only, it was tight. More like L size, but it is XXL.

Something very wrong with sizing is going on here.

Returned.

Reviewed by T. hops from Martinsburg, WV on Wednesday, February 26, 2014

Love this jacket..light weight and very warm. Highly recommended it. I did some research because I couldn't find this jacket anywhere else. I called Marmot, and they explained to me that this jacket is made exclusively for Sierra Trading Post only. Excellent jacket at a great price.

Reviewed by Ken from Metro Detroit on Monday, February 17, 2014

I love my Odin down jacket! I wear nearly every day during my winter bike/walk commute. I wear it with a long-sleeve base layer, a 100 weight fleece on top and a waterproof shell. With that combination it has to be around 10 degrees F or else it's too warm.

The only downside is that it's puffy in the abdomen, so I loose heat there. I'm 6' tall/170 lbs and my jacket is a large -- if that helps you.

I love this jacket so much I'm going to buy another one!

Reviewed by MrPrytania from ChiBeria on Thursday, February 13, 2014

I was looking for something fresh and interesting to replace my 10 year old LLBean winter jacket. In terms of style and looks this Marmot is a real winner. I bought the blue (electric blue!) and like it. The fit is a bit close fitting for my 17.5x35 dress shirt frame in the XL size. I was unsure about going to XXL because then it would be too long in the arms and perhaps too loose and then I would lose warming power. I wear it with a thin shirt or long sleeve tee. Excellent.

How low can you go wearing this? I went out in Chicago's arctic blast (Chibera) of 2014 where it was -2 with a -25F wind chill. Just this and a long sleeve tee. I was never warm. I was never super cold either but I could feel the coolness trying to seep into the seams. Warmth is subjective. I would say this is a great run around jacket with temps between 40F and 20F. The lower range if you're active and its not too windy. I wouldn't go lower by itself and if not being super active.

The jacket is absurdly light and thin. It weighs like a wind breaker. A jacket that light is quite addicting. It would be a super layer under a wind proof / water proof layer.