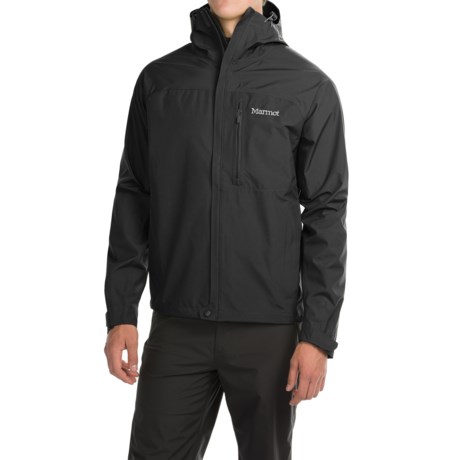 We have 3 of these jackets and I wouldn't have kept buying them if the fit was constricting. I think this jacket does have the angel wing cut. Check out the description of the jacket on some other sites and I think it may be stated.

Not sure what you mean by angle wing, but the jacket has excellent movement in the shoulders with room to wear an undergarment when the weather is cold. I normally wear a large in Marmot jackets and this jacket has the necessary extra room for good movement while maintaining proper fit.

Sorry, Eric, I don't have other Marmot jackets with this "angel wing" movement you mention. Perhaps you are referring to whether the sleeves are extra wide at the top? If so, it seems like the sleeves are just right, but not like "wings," and allow for layering (a thin, ultralight down vest was worn with this recently, and the jacket fit just fine). Bought this for my husband, and he likes it a lot. It's more beefy than the Marmot Precip line, and it seems like it will be a great lightweight raincoat.

Yes, free radial movement in arms like their other gear, great rain jacket.

Not having any other Marmot jackets I can't say. The fit is snug, but I've not found it confining.