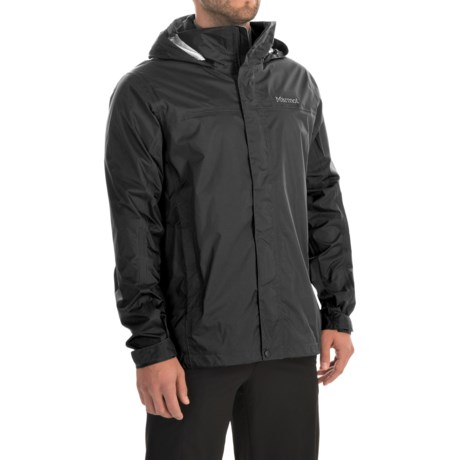 I'm 6'0 and a Med fits me fine. I'd probably order a large if I were you.

I'm not sure but I ordered both this Marmot jacket and this Merrell one: https://www.sierratradingpost.com/merrell-new-cascadia-20-jacket-waterproof-for-men~p~184tt/?filterString=s~merrell-jacket%2F for my son to try and the Merrell jacket seemed to run MUCH bigger. My son's a small guy but he was SWIMMING in the size S of the Merrell jacket. I offered it to a friend of his who's significantly bigger and it was huge on him as well. So that one may also be an option. Quality & feature-wise they seemed similar.

I'm 6' (23.5" torso length) and the XL hangs 7" past my belt.

My husband is right around 6 foot and it fits him wonderfully. I think it would probably.

Depends -- I'm 6'0" but overweight, so I bought a 2XL ... it's a bit longer than I'm used to...
whether at 6'3" you're going L or XL --- there was one fellow who at 6'0" found it 7" below his belt line,
so at 6'3" and I see one XL left -- it might be just right...

It would probably be a little short on you. I'm 5'10" & it fits me just like the photo on the model.

I'm 6'0", 172 lbs and a medium fits fine, with room for a thin fleece in colder weather.


I am 6'1 and a large fits me really well. Depends on your shoulders and torso size of course. It's an awesome jacket, used for a while now and very happy with the purchase.