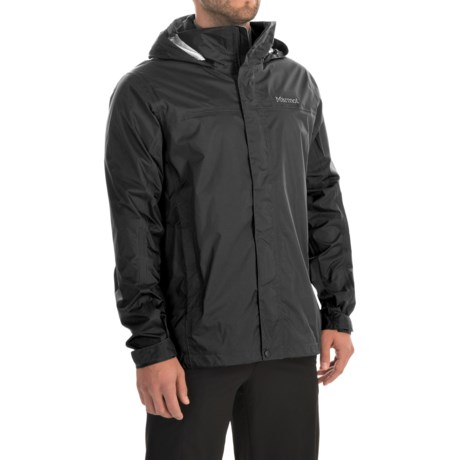 My son is 6'2", 160 lbs and has a medium. I think they run true to size. I seem to recall it is on the narrower side so maybe an XL?

My son is 6ft, 145# (tall & skinny) and got a size M.
Roomy enough to wear over a sweatshirt but not too huge when worn with a tshirt.


I'm 5'10" & weigh 180 lbs and the large size is roomy on me (but not overly roomy). I can easily put it on over a heavy sweater or even a sport coat. So depending on climate and what he would wear under it, a large might fit your husband.

My husband is right around the same dimensions....got him Ex Lg. and it fits him perfectly....a very nice light rain jacket.


I would guess large for a close fit, xl for layering heavier.
I'm 6'0", 175 lb and bought the a medium and it fits good with room for a lightweight fleece.

According to our fit team this item is running true to size. This item is sized based on chest measurement. If you hover your mouse over or click on the sizes the corresponding numeric chest sizes will be displayed.

I think it would depend upon your intended use. I usually size up so I can wear over heavy clothes in the winter when it's nasty weather and I'm sitting at a football game. I need the extra room because of needing to dress so warm. If it were for active use, I would probably size down as you would be generating body heat and not as much need for clothing layers.

I bought an XL for my son who is 6', 210 lbs and it fit him pretty well. Not extra bulky but with some room for winter clothing.