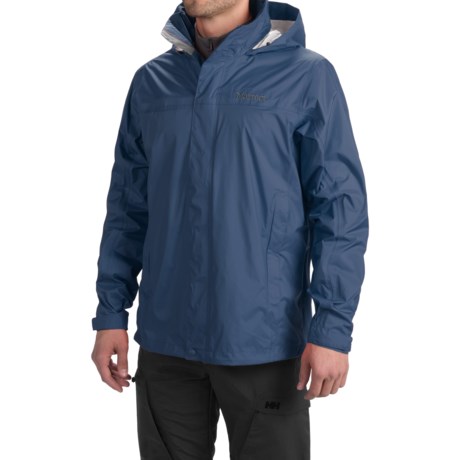 Yes, two large pockets. One serves as a stuff sack for the jacket.

Yes, it has good-sized zip pockets on the outside as well as zip pockets inside the jacket. The outside pockets also have velcro which is a little annoying.

Yes. Both sides, with zippers. Also pit zips. I'm wearing mine today.

Yes. They are mesh on the interior.
It also has pit zips.

Yes it has pockets and pit zips for ventilation...It's a killer jacket and will last roughly 4 years depending on how hard you are on your gear. I'm on my fourth one.

Yes, two hand pockets. There are no inside pockets'

Yes, it has two side pockets that are mesh on the inside. It is really a wonderful rain jacket.

Yes, the Marmot PreCip Jacket does have zippered hand pockets. I bought this jacket from Sierra and is the second one I own in a different color. It is a very nice quality lightweight jacket at a great price. I wore it up in Alaska fishing during a down poor and stayed bone dry underneath. I highly recommend it.

Yes, two waist level pockets and the all important pit zips. Great jacket!

Yes, it has a mesh hand-warmer pocket on each side. The pockets are set up a little higher than normal, but I didn't find it to be a problem. The jacket is really nice looking and wind- and waterproof. It also has pit-zips. I wish it had a two-way zipper, but can't have everything at this price!

Yes Jacket stuffs into one of them.

Yes, the jacket has 2 pockets (1 on each side) near the bottom of it. It is a great, lightweight jacket for the money. Can't go wrong for the lprice!

Yes it has a zip pocket on each side and armpits have roomy zip opening for ventilation. Great quality!