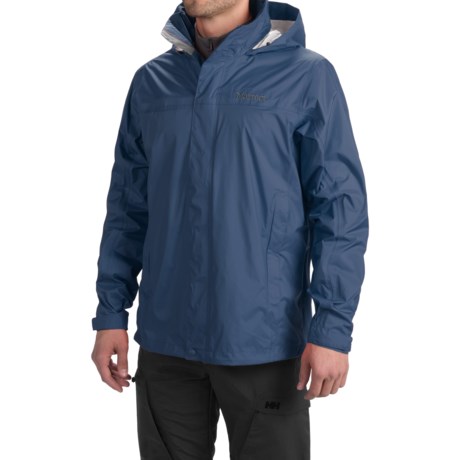 Nope. This one is:
http://www.sierratradingpost.com/marmot-precip-jacket-waterproof-for-men~p~7913c/?filterString=s~marmot-precip%2F&colorFamily=01

The short answer is "I don't know". I purchased mine in May and I don't know how quickly these go from retail to closeout on STP. My guess would be no...but that's certainly not definitive. I can tell you this.....I have owned several Precip jackets over the years. The oldest I wore out which Marmot replaced for free. I think the next couple were given away as loaners/gifts. I currently have two on my gear rack....which also includes a selection of Goretex shells as well. I always reach for the Precip as it does the job. The bang for the buck of this jacket simply can't be beat. I don't know if the "Nano Pro" addition is worth it...seeing you're in Miami that's a far more humid environment so perhaps it is. I can tell you though, for me, this jacket occupies my pack nearly 100% of the time and has served me superbly. Sorry I couldn't be more specific about the "NanoPro" aspect.

This is the original poster, thank you very much for helping me with my question. :)

Big305.

Honestly I'm not sure....but I'm thinking probably not. It kept me dry while fishing in Valdez down pours although it did sweat a bit. With rain like that though...it's better just to suffer through the rubber jackets. It's definitely a quality jacket...just not sure about Nano pro since I took off the tags long ago.

I do not know. But, my husband has worn it over and over and loves it.

I don't believe so, but I doubt it since Sierra Trading Post deals in Overstocks. You might want to query customer service at Sierra Trading Post directly.

My PreCip was manufactured in 2012. I am sure that is why Sierra trading post is able to sell them at such a discounted rate. Eventhough it may not be the 2014 model with NanoPro, the Precip is still a great jacket for the price.

No this is an older model. Still gets the job done but doesn't feel as nice.