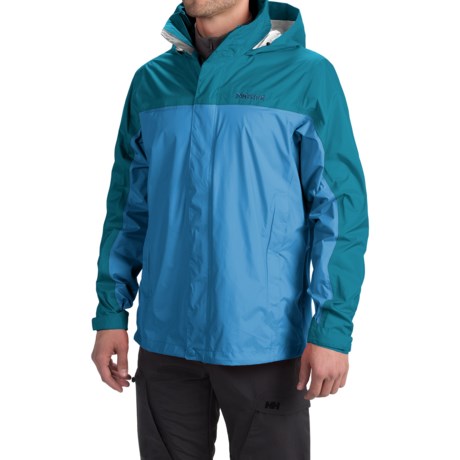 Definitely just a water shield in my opinion. It actually has an unpleasant "plastic" feel next to bare skin. It is also quite a noisy fabric, walking/hiking/running will all result in a loud swish-swish crinkling sound. I decided to keep it because of the price (got it for less than $50), and because it does the advertised job of keeping me dry. However, it is definitely not soft shell quality or material. This will be my packable rain shield (very light weight and compressable) and not my go-to rain jacket. Better options out there for more utilitarian jackets, even within the Marmot brand. I own and have owned several other Marmot jackets and have loved them all except this one.

No liner. Just the shell. Completely waterproof. I wear a sweatshirt under it when it is cool out.

There is no lining in this jacket. It is a rain shell..and an excellent one. You can go to any full price store and buy it off of the rack for significantly more $$$.

No, no lining...but my husband says it does provide some warmth and keeps him completely dry. He loves it!

Nope, no lining. It's just a shell.

No, the jacket does not have a lining. The waterproof coating is applied to the underside of the shell. I thought it might feel a little clammy in damp or cool weather but it's not too bad.

No lining... It is a waterproof shell. Great rain jacket.

No, there's no lining in the fabric, but that's kind of the point. It would not work as it's supposed to if there was a lining. The fabric is very different on the outside than on the inside. I think a liner would interfere with the breathability of the fabric, and would also make it bulkier. The way it is now the jacket is super light and packs down very small- I mean, you could put it in a large pocket or stuffed into an outside backpack pocket.
The best way to use it is to layer with other things depending on the temperature.

Okay- I already answered this, then I went and re-read the jacket specs- it says the fabric is nylon and the "lining" is polyester. So I went and looked carefully at my jacket too. There's definitely not what you would consider a separate "lining" in the traditional sense. The only thing I can figure is that maybe it is bonded to the outer fabric so that they appear to be a single fabric. I'm no expert, as far as high tec fabrics, but that's my best guess from what I can see based on my own jacket. I hope that helps you some.

It is just 1 combined layer of fabric (the outside looks like a water shield, the inside looks/feels like a liner. It doesn't really keep you warm with a strong wind or temps below 45 degrees.

The jacket has a light lining on the inside, yes. I have two of these jackets in different colors. Kept me bone dry in a downpour in Alaska. Great light jacket at a great price!!