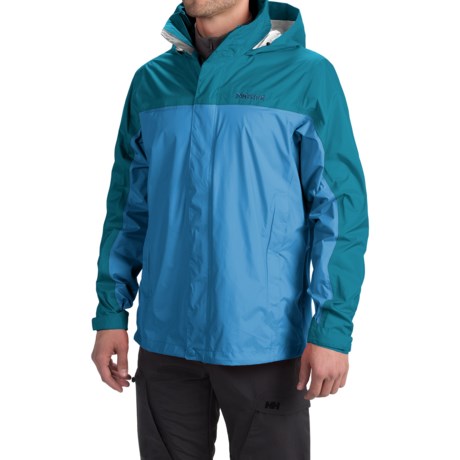 hangs nicely in the coat closet...
Reviewed by in small town... from Kenai Mts, Alaska on Sunday, July 14, 2013
...my precip jacket from STP bought a few years ago has yet to go outdoors after trying it on once... The size (L) runs bigger than average of other brand sizes on me, so (M) is a better fit even over a polar fleece 100+ layer; as I have an older precip model from a second hand store that must be 6 or more years old... the old jacket was in near perfect condition and not delaminated, but soaked through. bought and used nikwax techwash to clean it then applied tx.direct wash-in by hand in a small plastic basin since this is the most economical way to use the wash-in... then hang dried the jacket, but have not field tested the final verdict to see how much water will roll off the reconstituted DWR surface... The (M) size is an ideal jacket size and a go-to even in -15°F with the polar fleece jacket beneath, except this creates a breathe-ability issue inside the precip when used as a shell; ice forms inside the precip even with pit-zips open. So dampening from the inside-through the outside can happen, esp. with a failed DWR layer...

the newer jacket fits larger than necessary, and I bought a hefty thicker polyester fleece jacket for layering purposes in hopes of filling up some of the space; but with long arms and sleeves that get in the way of most winter gloves, there just is not enough adjustment to compensate. I am considering the purchase of a new (M) size precip to effectively replace the older one in great condition since I do not trust the idea of nikwax techwash+wash-in since most of the product essentially is tossed out in the water, and who knows what that does to the potability of water in places where towns share the same riversystem and have to process their drinking water to filter contaminants out of it. I don't have the problem here, except I know other states do.

Sizing issues with the newer/unworn precip are almost the same as that with the OR jacket bought about the same time; both of these have 99.9% of their time spent in the coat closet where clean &/or new coats hang... sadly these represent a lost value probably better spent at REI in person, yet the restricted returns would only get a store-credit at STP with nothing adequate to spend it on... same with some as-new boots I have in boxes still... Probably a fair jacket if you buy then to be disposable, at a steep discount; and likely better than most early goretex jackets since i have several that are fine except they leak no matter what... the nature of early goretex was in part problematic due to poor care instructions & no regional customer support. Marmot itself has a fairly good support, but I've sent other jackets back to STP due to the lack of customer service even though Marmot offered to custom-fix issues I found on their new jacket; only if I paid shipping. Thus any savings would have evaporated. Cut your losses anyway you can...

Most helpful positive reviews
Similar items and more information in the following areas: