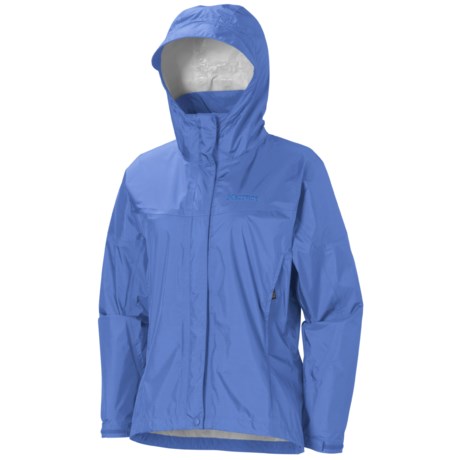 At 5'7" I would think a Med would work for you. I am 5'5" and I bought a large, but I wanted to be able to wear it as a wind layer for winters and needed some space for layering beneath it. I usually have problems b/c I have wide shoulders but this jacket, even with the extra layers fits well.

Sarah, I am 5'6 and not so thin. I usually wear a large and it fit fine. I use it for hiking in the Pacific northwest and did not have an issue with shoulders or sleeves. Really liked the jacket and perfect for what I needed. Thought it was loose in the body - which I wanted.

I think I'd recommend medium. You'll have room for a sweater.

I think you will be fine with a small in this jacket. It is not snug, allowing for layers underneath. If you are more of a small than a medium, then the medium would be very roomy. If you are more of a medium ( as in a size 8 or 10) you may need the medium jacket. I hope this helps.

It fits snug but I do put sweatshirts under it when it is really cold. Hope this helps

Not sure I can give you adefinitive answer on this. I'm 5' 6" , 150 lb, so not exactly thin. I found the Medium to be snug around my waist, but it would be comfortable for you. The rest of the jacket was well proportioned for me. Sleeve length and shoulders were generous. I think a M would leave you room for fleece or another warm shirt underneath, but not be gigantic. If you don't plan to wear anything but a t-shirt under it, you might be able to get away with the Small. (I have the same fit problem you do, but it's usually a decision between M and L!)

I had a good fit with a size large. I am 5'9" and 140 #. I was still able to layer the jacket with a light weight fleece underneath. However, I didn't find it to be too loose when worn alone. I hope this helps.

I'm 5'0, 115 pounds, small shoulders (and frame) and I fit the small nicely. The shoulders would probably be fine for you in a small but the sleeve would probably be too short. I'd take a medium. It's is a beautiful jacket and the medium can mold to your shape bec it's a thin jacket for the summer thru fall.