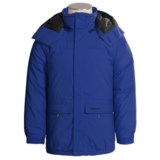 Closeouts. The Marmot Whitehorse parka is ready to protect and serve in nature's coldest conditions. It combines the weather-repelling power of MemBrain® waterproof breathable fabric with the unmatched warming capabilities of premium 650 fill power down.
Average Rating based on
29
reviews
4.862068
0
5
Reviewed by Anonymous from Nashville on Thursday, March 6, 2014

I recently returned from a 10-day trip to Fairbanks, Alaska where we have a son serving in the US Army. Have never been to Alaska before, much less an Arctic Winter, so did not truly appreciate the immediate impact -30F has on someone exiting the airport after arrival. In preparation to visit a frozen Alaska, I purchased this Marmot Parka to wear in the coldest winter I have ever experienced. Without a doubt, this is the finest coat I have ever owned!! I am an older outdoorsman who has gained a few pounds over the past 10-15 years, so ordered the XL, and though a bit lengthy in the arms, fits perfectly otherwise. Even though I am 5'10" and 210lbs, there is plenty of room to layer under this granite colored coat (great color!!). Waterproof, wind proof and stuffed with 650-Fill Power down, I was never cold outside wearing this amazing coat. It is very "full" as the down creates a lot of loft, so an extra suitcase was needed to carry this and my wife's winter coat on the plane. It has lower pockets with flaps and hand pockets with liners. Even though the pockets were lined, the hand warmer pockets are low on the front of the coat, and were difficult to reach, but with the sleeves being a bit long, they covered my hands and offered good protection in their own right. There are also two chest level pockets with zippers that can carry plenty of gear without affecting the coat's loft. Though unlined, these higher pockets are easier to reach and should have been lined. I do wish there were pit zips as one will expire in this coat when exerting even at -30F. Also, a small zipper pocket on one of the distal sleeves would be nice as would a snow skirt that was zipped in so it could be removed when not needed. The hood is made this way (zipped on), and is of good size and warm. Even without these minor niceities, I will be wearing this coat for a very long time.

Reviewed by drummajor500 from Indiana on Wednesday, January 29, 2014

Recent weather here at -10 to -12 this parka kept me warm in just a regular shirt with no problem.
Parka is very well made with lots of adjustments. Very pleased with the price for a coat of this quality.
I am not used to this much down so the coat seems rather bulky, as one friend said "That is the biggest coat I have ever seen". I may just need to get used to it. I do find it hard to wear when I am driving especially with the hood attached.
I am 6' 1" and 240 lbs. and I ordered an XXL but could probably have gotten by with an XL. There is a snow skirt on the inside but on the XXL it is so big around that it does not do much good. I am long waisted and this is one of the few coats where the waist adjustment cord actually hits me at the waist.
I bought this coat for football games and other outdoor activities and our occasional extreme conditions. I have no doubt that I will stay extremely warm and think I will have this parka a long, long time.


Reviewed by vicky from tn on Sunday, January 26, 2014

My fiance really love it.

Reviewed by Matthew from Alaska on Sunday, January 12, 2014

This parka is warm and keeps me dry regardless of the elements. I live in Alaska and it is sufficient for the brutal winters we have.

Reviewed by Jonathan R from New York City on Tuesday, December 31, 2013

It's a great coat , and at a great price. The coat does run big. Wish I would of ordered a 2XL, I'm 6'2 300lbs , and the 3XL is a little big on me . But overall a great buy and great coat.


Reviewed by MMR11211 from Brooklyn, NYC on Tuesday, December 17, 2013

Ordered this coat for my son. He tested it out by only having a tee shirt on and went for a walk in 27 degrees. He said he started to sweat. The length is perfect for a man's coat. Very happy with.

Reviewed by jerry from yonkers,NY on Thursday, November 14, 2013

light and very warm

Reviewed by Sunhammer from Above the snow line, below the timber line on Friday, October 11, 2013

Personal: 5' 10", 50" solid chest w/ beer gut, 38" waist, hat size 7 3/4 ---- A 2xl shirt is comfy loose on me. I prefer coats and parkas larger than needed, prefer loose fit casual and in the case of coats it is air pockets that keep you warm + layering preferred. At almost 50 I don't seem to stay as warm as when I was 25.

Purchase Frame: This is my first down parka and my first Marmot. I own Columbia Bugaboo 2 w/ Omni-Heat (which is great for 97% of winter), I tried on various Columbia at Columbia store including Lhotse Parka (I really liked the Lhotse, sizing required a 3xl for best comfort).

Primary Reason: Winter outdoor trips and that 2 week period where temps drop below freezing in the city.

Whitehorse Parka Review: Open the bag and you just know. Excellent construction, not a thread out of place. This is a serious parka for people who live or play in real cold regions. You might not wear this to summit an 8k or make a polar run but the Whitehorse will get you anywhere else warmer than -45F.

I ordered 3XL based on my experience with Columbia and am happy with the choice (I like extra big) BUT I think I would have been just as happy with 2XL Marmot... the reason is the hand-warmer pockets are about an inch too low for me on the 3XL. Also, other reviewers comments on size are correct: Marmot Whitehorse 3XL = Columbia Lhotse 4XL. If you like snuggy-tight coats then might size down.

The sleeves are really long to the point I can pull my hands inside them comfortably (who needs pockets). It didn't matter what size I bought though as the size chart I saw showed that all my choices had 37" sleeves, but I am ok with that. The hood is awesome! My large German skull fits really and the down is generous. I cannot relate to people saying the hood is too big as the insulation is right up against my ears. (But keep in mind the 7 3/4 hat size.) None of the info sheets are clear - the hood is zipper attached. Oh, and the Whitehorse comes with the same mesh skirt pocket that the Yukon Classic has (basically the same coat with chest pockets).

Marmot gives a lifetime warranty and is super easy to register, but I doubt I will ever need it. This Marmot is my special use parka and should last me 20+ years, my Columbia Bugaboo 3-in-1 does all the day-to-day and where layering is a plus. Besides, you can just see "quality" radiating off this Whitehorse parka.

Reviewed by Nibor from Illinois on Wednesday, August 7, 2013

A very high quality down parka for half the money one would expect to pay. I love it!

Verified Buyer

Reviewed by AM in CT from Connecticut on Tuesday, February 26, 2013

Bought this for my husband, 6'2" 315 and it fits him nicely. It does have that "puffy" look, but overall the parka suits his needs. The only thing he doesn't like is the fact that the feathers seem to come out, from the inside, more than expected, which is why I gave it 4 stars. Can't go wrong for the price though!