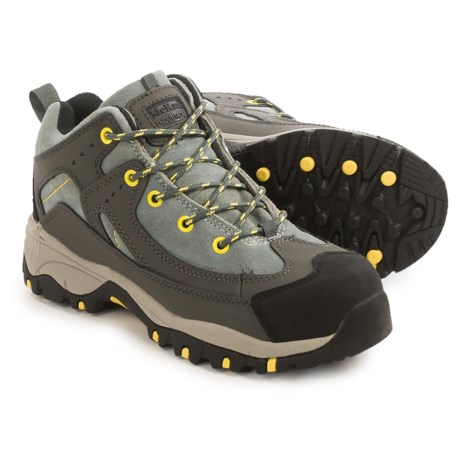 Roomy and sturdy; lousy insoles
Reviewed by DresserGal from Arkansas on Monday, December 19, 2016
I've got wide feet and high arches from a barefoot childhood so finding these in W sizes was great. I have always heard that steel toe shoes/boots were heavy and uncomfortable but not these. The toe box is very roomy and there is plenty of space for nice thick socks which I recommend be worn with these shoes. I load stage productions in and out--lots of heavy rolling boxes and other things that can easily crush feet. I recently had to work an overnight load out in single-digit temps and my feet stayed warm and safe through the 6-hr shift. These boots provide enough ankle support for me, yet the side cutouts allow for agility when needed. These boots were a steal on sale and I am very happy with them. I'd give them 5 stars except that ----

They come with a ridiculously inadequate insole with no arch support and the resilience of cardboard, and in my pair of boots one was missing the paltry padding under the heel to boot (pun, sorry). Thankfully the shoe is spacious enough that I could replace the bad insoles with nice cushy supportive ones from a pair of cross trainers I had worn out the uppers on, and with that simple fix these boots became very comfortable and performed well. I expect to get several seasons of use out of them but cannot vouch for their durability as I've only done two jobs with them so far.

Also--be sure you thread the laces underhand to achieve tightest grip to mid-foot. Mine arrived with overhand lacing that did not allow tight enough lacing to keep my foot from slopping around, resulting in sore feet after a few hours of my first gig. When I relaced and tightened them snug around the arches, no more sore feet.
Most helpful positive reviews
Most helpful negative reviews
Similar items and more information in the following areas: