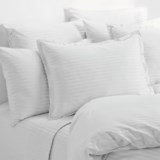 Overstock. There's something about dobby stripes that effortlessly invokes a crisp, clean feeling -- and we're sure you'll agree, once you've made your bed with Melange Home's wide dobby stripe sheet set!
Average Rating based on
22
reviews
3.590909
0
5
Reviewed by Sue from WI on Wednesday, March 26, 2014

This is the third set for us. I have tried others, but these are high quality and a bargain. I will buy them as long as you carry them.

Reviewed by ktalbott from Brooklyn ny on Tuesday, January 28, 2014

these are divine

Reviewed by Chris Snow from VA on Monday, December 2, 2013

These are great sheets, very well made and extremely comfortable. I feel like I've been sleeping better since we started using them. Highly recommend them.

Reviewed by Design_chris from Berkshire's Massachusetts on Monday, November 4, 2013

As always a good price and quick shipping. Unfurled them and slept on them. Soft, sufficient size _before washing_ and good color. Turns out we have an identical pattern in a different color. I hope they will shrink gracefully. My only requirements for modern day sheets on oversized mattresses is that they can tuck in at the foot; sides optional. Have to wait for that part of the review.

Reviewed by JOyce from San Francisco on Friday, October 25, 2013

I washed the sheets before using them. They are not smooth .. rather rough feeling. Will I keep them? I guess. But I am not really happy with them.

Reviewed by Jan cyclist from New Hampshire on Saturday, October 5, 2013

These sheets seemed great when they arrived, but after using them two months, they are starting to pill. A disappointment.

Reviewed by frankie from Colorado on Monday, September 2, 2013

We needed a new set of sheets for our Queen size mattress. We got a great deal with Sierra Trading Post - $100+ dollar set for $35 on sale with extra 30% off. We washed them before putting them on the bed. When we got in bed I immediately felt roughness of the sheet fabric. I tried to get comfortable for an hour and finally gave up, putting a light quilt in between me and the sheets. They are now back in the wash with detergent for sensitive skin and lots of fabric softener. Hopefully this will help.

Reviewed by New House Vermont from Vermont on Monday, August 19, 2013

The best thing I can say about these sheets is that they are a good size for a deep mattress. I could not believe how stiff they were after the first wash so I washed them again and added fabric softener. No better so I did a third wash with more fabric softener. Still stiff but I ironed them hoping the heat would break down the fiber. I put them on the bed. I must have misunderstood what "crisp" means. The color is true to what the picture showed.

Reviewed by LRTown from Seattle on Sunday, August 18, 2013

I found these sheets very uncomfortable/scratchy! Upon first receiving, I felt the fabric and was quite concerned that they would not be comfortable to sleep on. I figured I'd give them a few runs through the washer/drier and they'd soften up. After 4 cycles through the laundry... still very uncomfortable :( These are headed back.

Reviewed by Edathome from Massachusetts on Tuesday, August 13, 2013

Since manufacturers can make threads smaller these days than ever before, 400TC doesn't mean what it used to. These sheets are not in the least substantial, dense, smooth or crisp. I have been trying to think of the word for a material that best describes what they remind me of, and all I can come up with is "gauze". Obviously not exactly like medical gauze, but reminiscent of it nevertheless - just heavier. After washing, they are just sort of shapeless, insubstantial, semi-transparent cloth with no drape. Full of wrinkles and vaguely abrasive, no less.

One more example of the low-quality goods sourced from China that are flooding our markets these days.