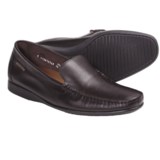 Discontinued colors and styles. Nothing conveys confidence like a well-turned Venetian, and Mephisto's Klaus shoe is a classic in soft leather, engineered with all the comforts you can expect from this distinguished brand.
Average Rating based on
10
reviews
3.300000
0
5
Reviewed by wiz from ottawa on Thursday, November 14, 2013

just a great feel and fit

Reviewed by Storkalope from Lyme,CT on Saturday, November 2, 2013

Like most reviewers, I bought these smaller than needed but found them still too big. I'm a 10.5-11 US normally, but I bought size 9 and they're still a bit long. But even more unusual is my feeling that these shoes have me tilting forward. It's just off-putting enough to make me write a shoe review.
Love the look and quality. Not so much the fit.

Reviewed by BabyTeaLeaf from Boston on Thursday, September 26, 2013

I've come to realize that Mephisto shoes, while well crafted with good materials, just don't fit me well. Their medium width is already on the wide side, and they run long. Especially when it comes to loafers or any shoe without laces, it's a bad idea for me. I wouldn't fault Mephisto though, just be aware of this if you buy.

Reviewed by 1cleverchef from SC on Tuesday, July 2, 2013

I have a pair of Mephisto Rally driver mocs size 44/10.5 that are great. I bought the Klaus 1/2 size down from reviews (size 10) They are still to big & they are a very long shoe. I kept them thinking I'd get used to them but they are just to big, they will probably end up rarely used and given away eventually. I can't sell them because sizing is so weird, they must run a full size to big. These shoes in size 10 are bigger then my 10.5 Mephisto Rallys, I never should have kept these shoes...They arrived in a plain brown box with no Mephisto literature, Tags etc. maybe they are knock offs, who knows. They dont say size 43 EUR just 10 US 9.5 EUR. I think the Rally's say 44EUR/10.5 US, those shoes came in a Mephisto box with all the literature..

Reviewed by Fashionisto from Los Angeles on Monday, June 3, 2013

...for an internationally recognized brand. Extremely comfortable and sharp enough to wear with khakis and a sports coat.

Reviewed by acrewchief from Florida on Thursday, May 23, 2013

This is the third time I have tried to buy Mephisto shoes from Sierra. The first two were too large (even though I picked the size based on a store try-on). The second one I went even smaller, but it was still too long.

This time I got the length BUT the shoe was too wide. It was a medium and I am a D width with everyone.

I give up. Are these seconds? Broke my spirit. I keep paying for returns, but have no shoes.

Reviewed by Didi from California on Tuesday, May 21, 2013

The Mephisto shoes are oddly sized. Each shoe is different. My husband could not find a size that fit. Best to buy these shoes in a store where you can try on multiple sizes and styles.

Verified Buyer

Reviewed by George from Phoenix on Tuesday, February 19, 2013

This shoe is extremely comfortable and has a classic look. Warning - the sizing is off - I normally take an 8 1/2 to a 9. Had to go down to an 8.

Verified Buyer

Reviewed by Pastor from Oklahoma City on Monday, February 11, 2013

This shoe runs large. Curiously I have a very similiar Mephisto slip on shoe purchased from Sierra several year ago in the same size as this one which fits perfectly, but I have to wear a very heavy sock with this one to make it fit right. This is the first time I have had this trouble with a pair of Mephisto shoes. If I were to recommend this to a fried I would suggest odering at least 1/2 a size smaller than usual.

Verified Buyer

Reviewed by M from Oakland, CA on Thursday, December 20, 2012

These shoes are perfect for Fridays at the office or weekends out.