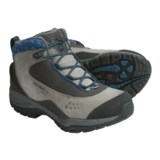 Closeouts. Ideal for cold-weather hiking and walking, Merrell's Arctic Fox 6 winter boots have a sleek design joined by zoned insulation for warmth and a waterproof breathable membrane to keep feet dry.
Average Rating based on
51
reviews
4.450980
0
5
Reviewed by Janet from Wisconsin on Wednesday, January 29, 2014

Love these boots! They keep my feet warm in sub zero temps and hold up well at work even when they get all wet from bathing dogs.

Reviewed by Living the dream from Colorado on Tuesday, January 7, 2014

I live in the High Rocky Mountains and walk outside almost everyday. I am so glad I purchased these boots, they are warm, lightweight, and so far have great gripping soles. I am pleased!

Reviewed by Becky from Central Coast, California on Saturday, January 4, 2014

Got these while looking for insulated, light weight boots. I have two other pairs of Merrell boots and they are a good fit for my feet (very high arches and a need for a wide toe box). While they are insulated, my toes still got a little cold first time out for a few hours in cold weather (30-35 degrees). Next time, I put a pair of toe warmers in there, and that worked well. Comfortable right out of the box. My shoe size ranges from 9 to 9.5, depending on the shoe, and I got a 9.5 in these boots to accommodate a pair of heavier socks. Fit for foot is perfect but I do need make sure laces are tight around ankle.

Reviewed by Island Girl from Monhegan Island, ME on Monday, December 30, 2013

These were comfortable right out of the box. I wanted less bulk and less weight without losing warmth and they deliver. I use them to drive stop and start 4WD standard in winter and their sneaker like size and lightness make shifting/pedal pushing less clunky than my arctic Muck Boots, plus I can hop out and do deliveries staying warm and dry yet lighter on my feet. I usually take a size 9 or 9.5 but these were only available in 10, I gave it a try and they fit good in medium weight winter socks. Not too loose. I also like them for dog walking on the trail if the snow isn't too deep. They have good grip. You might not like the one hook lace up as they tend to loosen, but I double knot them and this solves the problem.

Reviewed by MJ from New York on Sunday, December 29, 2013

they keep my feet warm & dry. they're comfortable. excellent price.

Reviewed by Vad859 from Danville KY on Saturday, December 28, 2013

Purchased these books for Christmas after owning Merrell hiking boots for over 22 years. Unfortunately, these boots did not live up to the experience I've had with other Merrell boots. The ankle needs two--not just one--loop eyelet as the current configuration leaves the ankle and upper foot area inadequately supported and negates the insulation affect of the boot as too much air and cold enter through the top of the boot as it is now designed.

Reviewed by none from CALIFORNIA on Saturday, December 28, 2013

I am glad I followed the fitting directions with these boots. It was right on. I did not want to have to exchange. Have worn them in the rain and snow on a 12 mile hike and they were great.

They are a stiff boot and offer good support. Traction is good on wet granite. They also fit well with snow shoes. They have a lip on the heel of the boot that fits a snow show strap. The lip keeps the strap in place.

I have bad knees and they worked great.



Reviewed by WoolGrower from northern Maine on Saturday, December 28, 2013

I typically wear 8.5 W shoes and boots. Merrell runs wide and their 8.5 regular width usually fits me just fine. These did fit the width, but my toes bumped the front when I tested them around the house with a thin sock on one foot and a thick sock on the other. If I just needed something to zip from house to car, around a store and back, they would probably have worked. But I need them for long snowshoe hikes and can't have my toes cramped. Could not find a size 9 anywhere online. So I ordered a 9.5 from STP. They have not arrived yet. The quality and interior is excellent and showed great promise.

Reviewed by Mary from New York on Saturday, December 28, 2013

I bought these boots for long (5-10 mile) walks in cold weather. I put them on with very heavy wool socks and went out in 20-degree weather. My feet were still a bit cold after an hour, but these were otherwise comfortable the first time wearing them.

Reviewed by Catherine from Los Angeles, CA on Thursday, December 26, 2013

These are the best snow shoes I've ever had. They really keep my feet warm even when hiking in snow. The grip is pretty good. Ice is still slippery but I don't think anything holds on ice. The support is superb. They are slightly narrow, I have a very wide foot. But they are wearing in and have been just fine despite this.