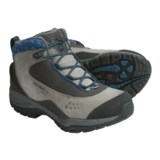 Closeouts. Ideal for cold-weather hiking and walking, Merrell's Arctic Fox 6 winter boots have a sleek design joined by zoned insulation for warmth and a waterproof breathable membrane to keep feet dry.
Average Rating based on
51
reviews
4.450980
0
5
Reviewed by Janet from Wisconsin on Wednesday, January 29, 2014

Love these boots! They keep my feet warm in sub zero temps and hold up well at work even when they get all wet from bathing dogs.

Reviewed by Living the dream from Colorado on Tuesday, January 7, 2014

I live in the High Rocky Mountains and walk outside almost everyday. I am so glad I purchased these boots, they are warm, lightweight, and so far have great gripping soles. I am pleased!

Reviewed by Becky from Central Coast, California on Saturday, January 4, 2014

Got these while looking for insulated, light weight boots. I have two other pairs of Merrell boots and they are a good fit for my feet (very high arches and a need for a wide toe box). While they are insulated, my toes still got a little cold first time out for a few hours in cold weather (30-35 degrees). Next time, I put a pair of toe warmers in there, and that worked well. Comfortable right out of the box. My shoe size ranges from 9 to 9.5, depending on the shoe, and I got a 9.5 in these boots to accommodate a pair of heavier socks. Fit for foot is perfect but I do need make sure laces are tight around ankle.

Reviewed by Island Girl from Monhegan Island, ME on Monday, December 30, 2013

These were comfortable right out of the box. I wanted less bulk and less weight without losing warmth and they deliver. I use them to drive stop and start 4WD standard in winter and their sneaker like size and lightness make shifting/pedal pushing less clunky than my arctic Muck Boots, plus I can hop out and do deliveries staying warm and dry yet lighter on my feet. I usually take a size 9 or 9.5 but these were only available in 10, I gave it a try and they fit good in medium weight winter socks. Not too loose. I also like them for dog walking on the trail if the snow isn't too deep. They have good grip. You might not like the one hook lace up as they tend to loosen, but I double knot them and this solves the problem.

Reviewed by MJ from New York on Sunday, December 29, 2013

they keep my feet warm & dry. they're comfortable. excellent price.

Reviewed by Vad859 from Danville KY on Saturday, December 28, 2013

Purchased these books for Christmas after owning Merrell hiking boots for over 22 years. Unfortunately, these boots did not live up to the experience I've had with other Merrell boots. The ankle needs two--not just one--loop eyelet as the current configuration leaves the ankle and upper foot area inadequately supported and negates the insulation affect of the boot as too much air and cold enter through the top of the boot as it is now designed.

Reviewed by none from CALIFORNIA on Saturday, December 28, 2013

I am glad I followed the fitting directions with these boots. It was right on. I did not want to have to exchange. Have worn them in the rain and snow on a 12 mile hike and they were great.

They are a stiff boot and offer good support. Traction is good on wet granite. They also fit well with snow shoes. They have a lip on the heel of the boot that fits a snow show strap. The lip keeps the strap in place.

I have bad knees and they worked great.



Reviewed by WoolGrower from northern Maine on Saturday, December 28, 2013

I typically wear 8.5 W shoes and boots. Merrell runs wide and their 8.5 regular width usually fits me just fine. These did fit the width, but my toes bumped the front when I tested them around the house with a thin sock on one foot and a thick sock on the other. If I just needed something to zip from house to car, around a store and back, they would probably have worked. But I need them for long snowshoe hikes and can't have my toes cramped. Could not find a size 9 anywhere online. So I ordered a 9.5 from STP. They have not arrived yet. The quality and interior is excellent and showed great promise.

Reviewed by Mary from New York on Saturday, December 28, 2013

I bought these boots for long (5-10 mile) walks in cold weather. I put them on with very heavy wool socks and went out in 20-degree weather. My feet were still a bit cold after an hour, but these were otherwise comfortable the first time wearing them.

Reviewed by Catherine from Los Angeles, CA on Thursday, December 26, 2013

These are the best snow shoes I've ever had. They really keep my feet warm even when hiking in snow. The grip is pretty good. Ice is still slippery but I don't think anything holds on ice. The support is superb. They are slightly narrow, I have a very wide foot. But they are wearing in and have been just fine despite this.

Reviewed by BIGd from Illinois on Thursday, December 26, 2013

We walk outdoors, 2 miles, almost everyday unless temp below 0 or is too windy. Wife's feet cold with her present boots. She tried these and has nothing but good to say about them. Good fit and traction.

Reviewed by DJ from Michigan on Thursday, December 26, 2013

True to size and comfortable. No break-in period needed which is a real plus! Have not had a chance to test the insulation factor yet--hope it's as good as the rest of the boot since I live in Michigan!

Reviewed by Melanie B. from NC on Wednesday, December 25, 2013

Great boot, excellent tread, and well insulated.

Reviewed by National Park traveler. from Upstate NY on Tuesday, December 24, 2013

Comfortable, warm. True to size. Able to fit orthotic in.
Merrill's are always my favorite.

Reviewed by shoediva from idaho on Saturday, December 21, 2013

I wasn't sure about these boots at first. The only color that had my size was the Silver Birch ones and I really didn't like them on my feet. But like an ugly puppy these boots grew one me and now they are my go to boot for walking the dog in the snow. I really wish I could have gotten the black but the Birch ones are alright and they really do look a bit more fashionable. At first I had a bit of trouble with my heal slipping but I did a lacing trick that STP suggested and now they don't slip at all. (look it up on youtube ladies) My feet are toasty warm, stay completely dry. The leather is nice and the boot is well made too.

Reviewed by Makichan from Alpine, Texas on Thursday, December 19, 2013

I haven't been able to test these shoes in cold. I plan on taking them to Milwaukee and wanted a light shoe for the snow. These fit the bill for being light. They are comfortable right out of the box with great tread. I usually wear a size 6 and that's what I ordered because the reviews said it was true to size. I sort of feel like I should have ordered a half size up so I could wear a heavier sock and have a bit more toe room but I don't want to send them back because the price has gone up. I'm hoping for the best with these shoes when I'm able to put them to the test.

Reviewed by Out with the dogs from Illinois on Tuesday, December 17, 2013

These boots are excellent! They fit great, lightweight and good traction in the snow. I've been a Merrill fan for a long time and these boots have earned that loyalty

Reviewed by Patty from Wisconsin on Monday, December 16, 2013

Ever since getting plantar facitis, I have worn Merrill shoes exclusively because of the interior support. I was excited about these boots as I have been looking for some heavy hiking boots. I liked every thing about the look of the boot; the sole was especially heavy duty. However, after wearing them inside the house for several hours, my left heel was in pain. I was disappointed that these did not work out and had to return them. I do not, however, intend to give up on Merrill as they are a quality product.

Reviewed by Shelly from Colorado on Saturday, December 14, 2013

k

Reviewed by Rennie from Sag Harbor, Long Island on Friday, December 13, 2013

I've had Merrell winter shoe/boots in the past and they've always kept my usually chilly feet toasty warm, and hold up well for several years. When this pair arrived I was impresssed with the look of them and tried them right on. The fit and feel were perfect. I'm a 9 M, and these are true to size. They look and feel like sneakers, which I prefer, but go way beyond on warmth and support. These boots really hold the entire foot and ankle very comfortably with wonderful support. I took them on a trial walk, and was instantly reminded of 2 other features I love about Merrell footwear: they feel almost weightless; and the treads taper back a bit at both toe and heel ends, helping to smoothly propel you forward with each step, making walking all the more pleasurable! Our dog and I take a lot of long walks together, so I really appreciate an attractive boot that offers so many extra benefits! Highly recommended.

Reviewed by trekkerman from new mexico on Wednesday, December 11, 2013

Merrell has created a great winter boot. I am a guy with a little foot and must rely on androgynous boots and shoes as I cannot wear mens sizes. These boots fit perfectly! With absolute comfort and no need to break them in. It has a great sole and provides excellent traction. They also provide exceptional warmth, and is completely waterproof. Albuquerque has been extremely cold this past month and I wear them anytime I hike, walk the dog, or go to the dog park. My feet have been so happy staying warm. They are attractive and I just love them. My girlfriends who hike are envious!

Reviewed by morepacksthanpurses from Atlanta, GA on Wednesday, December 11, 2013

I love these boots. I am on my feet for 10 hours at a time waiting tables, and do a 30 minute power walk to go to and come home from work, and my feet felt great after two of these days in a row. But, the first two days I wore them it was drizzly and wet. Unfortunately, on the second day both boots seeped water in from the bottom. I'm surprised about this, given Merrell's reputation. I'm hoping this is just a random defect and that the replacements will be truly watertight. I will post an update once I receive and verify the replacement's abilities.

Reviewed by Dee from Usa on Tuesday, December 10, 2013

These boots are comfortable to wear all day long and they keep my feet very warm. I work in a refrigeration area at work and needed something to keep my feet from freezing, These book do the trick, they are awesome, I did not even get sore feet when I wore them the first few days. I am very happy I found them. I wanted to order a size 5 in the silver but they are no longer in stock, disappointed about that but that is how it goes. Still happy with the ones I did get. Delivery was 3 days, without any problems.

Reviewed by Retired and biking from ND on Saturday, December 7, 2013

These rank as my favorite cold-weather purchase this year. With a pair of wool socks, I've worn them down to -15 this winter and my feet have stayed warm and comfortable while walking the dog. Good traction too, and the sizing was right on.

Reviewed by Woodland wanderer from Massachusetts on Wednesday, November 27, 2013

I do a lot of winter hiking. I tested them out on Mt. Tecumseh, NH on a 4 degree day. They didn't keep my feet as warm as I hoped but had great traction on slippery terrain.

Reviewed by Sage Rider from New Mexico on Wednesday, November 27, 2013

The pair of boots I ordered must have been a factory second. Not the Merrill quality that I am used to. The toe box in the left boot crushed the top of my toes with every step. I tried three different pairs of socks, my custom orthotics, and gel orthotics, but nothing prevented the crimping effect as I rolled forward on the ball of my foot. Unfortunately, I returned the boots.

Reviewed by Kat from Maryland on Wednesday, November 27, 2013

We haven't had any snowy weather just yet, so I can't speak to the warmth factor yet. I can tell you that the boots fit comfortably- which is amazing in and of itself. If you are fashion conscious, they do make your feet appear a bit larger than normal, but you won't feel like Minnie Mouse by any means. My company is sending me to Alaska in February (I thought AK was closed in February?? ;) and I'm hoping these will keep my little southern self from freezing completely on the journey between the door and the car.

Reviewed by Heather&Kali from Intervale, NH on Tuesday, November 26, 2013

Comfortable boot and right out of the box I could tell they had more insulation than my Garmont mid gtx's. First day out, did 23 miles without any trouble. I actually changed socks once on this trip due to sweaty feet. Temps were in the mid 20's with lots of wind. Day two, 14 miles, temps in the teens with 40+ MPH winds. First real cold day so broke through ice/snow all day in to mud. Needless to say they are no longer white but managed to keep my feet warm, while walking off the wet. I decided that I like them. I had trouble matching up the gaiter but that was on the trail, back at home defrosted, they fit like a glove.

Reviewed by olsonknut from Snowmass Village, CO on Thursday, November 21, 2013

These feel like they were made for me. I am an 8.5..sometime order large becase my feet are a tad wde. These fit perfectly in 8.5. Comfortable right out of the box. I live in Colorado and I snowshoe/hike 5 time a week to work. They are perfect for that. Warm, but not to stiff or clunky. LOVE.

Reviewed by Utah skier from Utah on Tuesday, November 19, 2013

This boot has the normal Merrell comfort, great fit, good insulation, great tread. Another winner!