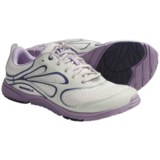 Closeouts. Merrell made the Bare Access Arc running shoes for all the beginner barefoot runners out there -- with a minimalist design and a touch of cushion at the toe and heel to ease you into a new way to hit the road.
Average Rating based on
54
reviews
4.537037
0
5
Reviewed by Anna from New Jersey on Wednesday, April 2, 2014

I love these shoes. I wear them for all my training, except for running. I didn't feel there was enough support for me when I ran in them. Make sure you break them in a little at a time. Because of the "barefoot" technology, you use different muscles when you wear them. You may feel fatigue in your legs in the first week, but then, they just feel awesome. I

Reviewed by see red run from north carolina on Sunday, August 11, 2013

I love the colors on these shoes. I got the red with bright blue sole. They are very comfortable for barefoot shoes. These are my first barefoot shoes and so far I have only used them on the track. I am a road runner but I haven't tried them on any longer distances yet. Mainly because I haven't had time but also thought I should test them on something short to make sure my ankles and other joints hold up with barefoot shoes. I am very pleased so far.

Reviewed by Smart shopper from Washington State on Friday, July 19, 2013

Haven't purchased new walking shoes for a while and when I saw these I knew I had to have them. I am going to do a 5K walk soon and wanted a comfortable, lightweight shoe and I got it. These felt good from the first moment I put them on and I did a lot of walking that first day.

Reviewed by SRBRANDT from Yakima, Washington on Wednesday, July 17, 2013

When I ordered these shoes I wasn't sure about their appearance. I thought the colors might be obnoxious, but they were such a good deal I ordered them anyway. When I received them I was pleasantly surprised at how much I liked how they looked! They are really comfortable and lightweight. My feet are definitely using muscles I wasn't aware I had. I am finding that my steps are more efficient when I wear these shoes. I used to have to jog at 4 mph on the treadmill, but when I wear these I am able to walk. Also great for weightlifting, I have better balance while doing squats. They just feel natural!

Reviewed by Hanwal from Colorado on Wednesday, April 10, 2013

I have gotten so many compliments on my new running shoes. They are comfortable and offer support. Great deal!

Reviewed by ES from Wyoming on Thursday, March 28, 2013

Can't stand 5-toe shoes, so wanted to try another minimal design. These are perfect: comfortably snug through midfoot, then plenty of room in toe box. Great to wear around the house, too. Good for natural, barefoot running technique; if you heel-strike, it hurts.

Reviewed by Green Rose from Idaho on Wednesday, March 27, 2013

I have a pair of merrell pace gloves as well as new balance minimus shoes so I am accustomed to the minimal running shoe design. Both of those shoes are comfortable with my fairly flat foot. Unfortunately, the bare access arc left me with muscle pain in my foot. The sole is narrow below the arch and my lack of arch just kind of sank into the flimsy mesh. My running stance and gait were not natural. The glove and minimus have less cushion but they also have a sole that covers a larger area of the bottom of your foot making them more comfortable for me. If you have a "regular" arched foot these shoes would probably work great but otherwise you might want to try them in person. They are true to size.

Reviewed by Barb in Vermont from Vermont on Saturday, March 23, 2013

Pretty good support for a minimalist shoe. True to size, fit my feet well.

Reviewed by Mountain Girl from Florida on Tuesday, March 12, 2013

Light weight, good room in toe box, but could feel the surface of a hard floor against the sole of my feet since there was not enough cushioning.

Reviewed by Idahoyogi from Idaho on Monday, March 11, 2013

This is my 4th pair! I love the Arc because it has a slighter broader foot base than the newer barefoot runners by Merril. They are very light and minimal on support, so you have to adapt to that if you are making the shift to a more natural shoe. I have practiced yoga for years, so my feet are strong and used to the barefoot concept. The price is definitely right at STP and the fit was perfect.