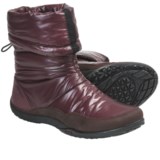 Closeouts. Merrell's Barefoot Life Frost Gloves winter boots offer the minimalist, barefoot experience you love with the dependable weather protection you need. The DWR-treated and waterproof breathable fabric upper features a stylish foldable cuff that can be worn up or down, chic gathered seams, and the warmth of fleece lining and 80g PrimaLoft® insulation.
Average Rating based on
42
reviews
3.928571
0
5
Reviewed by Anna Banana from Kansas on Sunday, June 8, 2014

I used these the whole winter. I was outside in the snow for an hour a couple times and my feet didn't get cold or wet. I mainly used them to walk children to and from the bus stop then found I didn't want to take them off when I got home. The reason I only gave 4 stars is because it was a workout getting them on and off even without socks (never wore socks with them). Once my feet were inside they didn't feel cramped though. I will be purchasing another pair if I can find black, I bought gray the first time.


Reviewed by Kathy from Virginia on Wednesday, March 19, 2014

These boots are very flimsy. They are more like slipper socks than boots.
I tried them out in the snow and yes they were warm but my feet had no
support what so ever. My feet hurt for 3 days after wearing them. I am sending
them back...I understand why they are on closeout....I am surprised Merrell would
make such a boot.

Reviewed by AT from Washington on Tuesday, March 18, 2014

I love barefoot shoes and have a couple pairs of barefoot Merrell shoes, but unfortunately these boots simply aren't. They have support in the arch, they have thick soles that aren't actually any more flexible than a regular shoe, and it seems that the heel is actually lower than the toe when you're wearing them. I was really excited about these and thought they would be my waterproof boots, because regular rain boots hurt my joints, but I plan to return these in search of an actual barefoot boot. Disappointing.

Reviewed by Happyri from New Jersey on Tuesday, March 11, 2014

I ordered these because I wanted a non-brown boot that would keep my feet warm, and it does. I love that they are extremely LIGHT weight, I had all my friends hold them to see how light they were.

Reviewed by MMM from Seattle on Monday, March 10, 2014

I started wearing these as soon as they came out of the box. It is advised to wear them in small doses at first to allow yourself to adjust to the Barefoot design, but I couldn't help myself! My legs were a little sore after the first several days, but I have adjusted and they are currently my most comfortable shoes. They have kept my feet warm and dry in the PNW wet weather-- which is why I got them. My problem is generally keeping my feet warm over the course of a long day. These shoes are doing it! Even if my socks get a little damp from sweat, my feet are staying toasty warm. Very happy.

Reviewed by drumlinds from Massachusetts on Friday, February 28, 2014

These boots are extremely comfortable. I usually love Merrell shoes, and I'm used to Merrell's barefoot shoes. These are just as comfortable as my Pace Gloves, with just a little more to the soles. They are also warm, unless you get them wet that is. I don't know how they call these shoes waterproof - they're not. If you step in snow or any tiny bit of water (even just geting the soles wet), your feet get wet and cold. This pretty much rules them out as winter footwear in New England. I can't keep them as a pair of glorified house slipper-boots, so I'm returning them.
A quick note on color: I got the silver color, and they look a little like moon boots - another strike against them. That said, if these came in a black fabric or leather waterproof version I'd buy them in a heartbeat. They really are comfortable, just not at all practical.

Reviewed by ETB from New York on Friday, February 28, 2014

These boots are stylish. They fit true to size for Merrell. I mostly wear a 9 1/2 or 10 ( usually a 10 boot) but I always wear a 9 1/2 Merrell. They are lightweight and the purple color is cool and a great alternative to black, while still being practical. Not a clunky or bulky boot. Warm boot

Reviewed by hoagie from pensacola on Saturday, February 1, 2014

I needed a pair of warm, lightweight boots to put in my pack and wear around the campsite, these are perfect. I normally wear a 9; however, I ordered a 10 and they're fine, so they may run a bit small. Added benefit, they look cute with some skirts I have.

Reviewed by Aunt E from Vermont on Friday, January 31, 2014

These are true to size, very light and comfortable. The bottom inside feels like an orthopedic insole

Reviewed by Doesn't like cold feet but, but hates socks! from Delaware on Sunday, January 26, 2014

This is by far the wettest, snowiest (if that's a word) winter we have had in a while. The frost glove is the best winter boot I have ever had. My feet stay dry and warm even after some shoveling and walking in the snow.