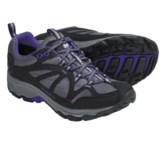 Closeouts. Get unstuck and get outdoors in Merrell's Calia trail shoes. These multisport shoes take on trying trail conditions with durable outsole lugs, and keep your feet well cushioned through weekend adventures with a Q-Form® midsole.
Average Rating based on
41
reviews
4.463414
0
5
Reviewed by ADKMOM from New Yoirk State on Saturday, July 27, 2013

I wrote a review on these shoes a few weeks ago and I would like to add some additional information.
I contacted Sierra about how unhappy I was with the shoes and they told me I could return them for either a refund or credit towards the purchase of a new pair. I was pleasantly surprised since I had worn the shoes for a few weeks and they were dirty. Sierra even paid for the return shipping. So I made the return on line and chose credit. I then purchased a pair of Goretex shoes on clearance and was able to complete the purchase for only $14.00 more! Also, the new shoes had no shipping charge and they came very fast!
So I am writing this review to praise Sierra for their excellent customer service. I have shopped here for years now and will definitely continue to shop here for years to come. They guarantee your purchase for 6 months!

Reviewed by ADKMOM from New Yoirk State on Sunday, July 14, 2013

I bought these shoes because of the Merrill reputation and the comfort rating but mostly because the shoe has a stitched in label saying they are WATERPROOF. You can see the label if you enlarge the inside view of the shoe.
I have worn these shoes for awhile but recently we have had a lot of rain and so I have been hiking through wet grass a lot. This was when I discovered that when my shoes get wet, my socks get wet and my feet feel cold and soggy.. Definitely not WATERPROOF...I feel this is false advertising.
I am only going to get Goretex from now on but not Northface (another issue there, shoes fell apart).
Wish I could return them but have worn them for a couple of months. Just wanted all of you to know this fact.

Reviewed by blondechef from chicago on Friday, June 7, 2013

i found these shoes in another brick and mortar shoe store and went back for another pair...... no luck finding them, went online and found them here! love these shoes, sooooooo comfortable! no break in period, perfect fit i wear a size 10M. i own merrell hiking boots and knew the product and loved them. they are sturdy, yet lightweight. good support and most of all perfect fit!

Reviewed by Trish from MI on Tuesday, May 14, 2013

I have been wearing Merrells for years. Not any more. They have no support and very little cushion in the sole. Now they make your foot pronate and my knees hurt.

Reviewed by Merrell Fan from Idaho on Tuesday, April 30, 2013

I have yet to purchase a pair o Merrell shoes that do not fit me perfectly. I can purchase with confidence, same size, every single time. I purchased these in hopes they would be slightly slimmer and more feminine than my beefier Merrell trail shoes that I bought several years ago. They were exactly what I hoped. A perfect shoe for at the soccer field and around town. My feet never tire in these shoes.

Reviewed by Do not run from Maine on Saturday, April 20, 2013

Only issue was a little funky in the heal when first worn. Broke in beautifly after 2nd and 3rd dog walk.

Reviewed by Bensmom from Ohio on Thursday, April 11, 2013

I just received these and have not tried them on the trail yet. However, they were extremely comfortable out of the box, a roomy toe box--moreso than I expected--and great arch support. Lightweight too. I put them on for a day of shopping and errand running and my feet were just as comfortable after six hours of walking around as they were when I started. So, no breaking in required. And at the closeout price--I cannot imagine a better value for a walking/hiking shoe.

Reviewed by Dee from Boone, NC on Thursday, April 11, 2013

The round toe box on this shoe is very comfortable for me. It is an attractive shoe as well. I hope to find an insole I like better, but if I never do it will still work for me.

Reviewed by Zendoc from East Aurora, NY on Tuesday, April 9, 2013

I have 2 other pair of Merrell's and love them both. But the length of this shoe and the width of the toe box were much smaller than what I own.
It made them completely unsatisfactory, and will be returned.

Reviewed by Missy B from Tennessee on Tuesday, April 9, 2013

This is my first purchase from Sierra Trading Post, and I am completely satisfied. These are great shoes, so comfortable, and what a deal!