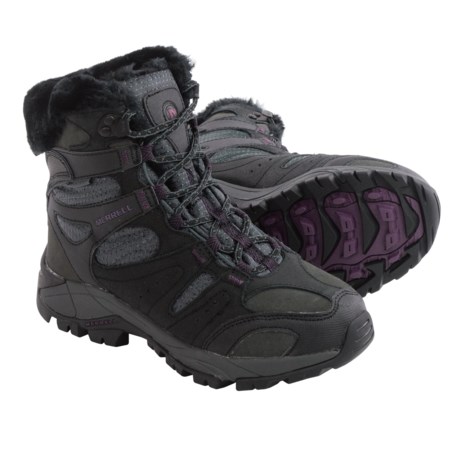 Not nearly as high as it looks. What appears a high heel from the outside is cosmetic -- the actual heel of your foot inside the shoe is only 1/2 inch from the ground -- your heel would be at the same height as the ball of your foot.
I love these shoes. They are so comfortable! I had ordered the 2015 version but found the heel huge and slippy -- this older version has a better-fitting heel. Best boots ever.

The heel height is 2". The bottom of heel to top of boot is 8". Very comfortable boot.

The top of the boot is 2-3 inches above the ankle bone. It's not a high boot. I wanted it a little higher than ankle height to accommodate for some snow while walking. The boot isn't flat either. It lifts me up probably 1 1/2 inches. They're comfortable in the right size.

They would be considered ankle height, but they are shin height. The heel is less than 1 inch.

According to the product specs tab:
Height: 6"
Heel height: 1-1/4"

I just got out the measuring tape. The boots at 8 3/4" in the front and 7" in the back, The heal is 1 3/4". They are very easy to walk in.