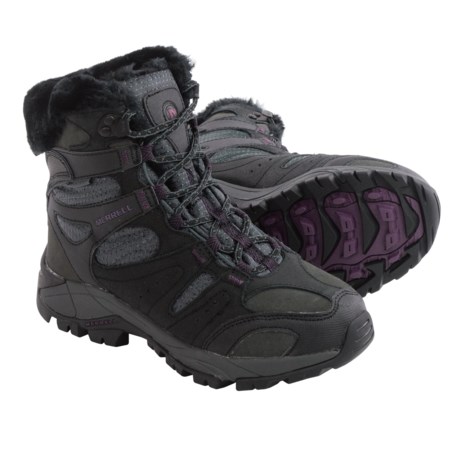 Very impressive!
Verified Buyer
Reviewed by Middle age student from Minnesota on Saturday, November 26, 2016
I should probably wait until we have some real winter before I write a review of these babies, but even if they didn't hold me in the absolute worst of it (Minnesota....) I'd still be pretty psyched about these boots. First of all, they are SO warm, even with mid-weight socks. In the same temps, my fancy Sorels don't keep my feet as warm. Slipping is a big, big concern for me, and though I haven't really had a chance to see how the Kiandras fare in very icy conditions, I know that I am a lot more stable when it comes to those awful, tricky freeze/melt cycle spots. One major factor is that I feel I have a ton of control in these boots vs. Sorel-types. They're heavy, make no mistake, but I think they're also awfully responsive given their size and bulk.

I walk a lot -- one of my great joys in life -- and so far have gone 4 miles in these with no issues. I mean, it doesn't feel like a walk on dry ground wearing running shoes, but it's just not going to, unless I want frostbite and a broken wrist.

I have a very wide forefoot and the beginnings of bunions, plus two toes that cross over each other, but a relatively normal heel width. Tricky! The Kiandras are perfect for me, though. I did size up (regular shoe size 8.5 or 9, running shoe size 9), I bought the Kiandras in a 10 as other reviewers recommended, and that worked great. I have to lace them pretty tight above my ankle, but that's no big deal.

The fuzzy lining is delicious -- cozy and cute. These are not gorgeous boots, but given their considerable utility, I think Merrell did pretty well making these at least reasonably good looking.

I gave 4 stars because they are kinda heavy and as said above, a little on the dowdy side. Would give them 4 1/2 if I could, and if they prevent my usual 2x a day (minimum; I'm clumsy, okay? :-) ) diggers when it's icy, I'm totally changing this review to 5 stars.

Oh, and you cannot possibly beat the price!!!
Most helpful negative reviews
Similar items and more information in the following areas: