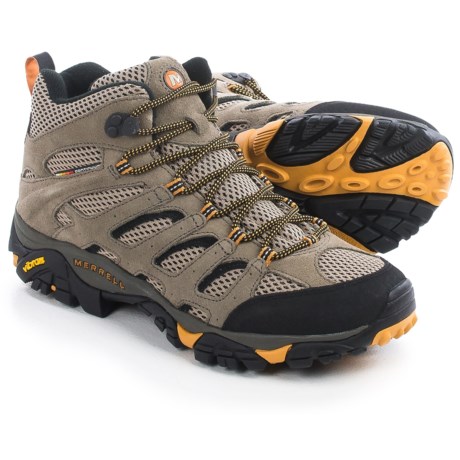 I have a low volume, medium arch, size 13 foot. I.e. "skinny feet" These boots have plenty of room in the toe box for me. They fit somewhat loosely there so I have to pull up the laces a bit more than I do with my Patagonia boots. Overall it's more of a comfort fit rather than a performance fit. That said, my feet don't slide around at all in them.

I have a 2e foot and the normal width is good. Since they are soft there is lots of give. They are a great shoe for breathable hiking.

The width is fine

I can't wear Nike's because of their narrow toe box but these Merrell's fit me just fine.

These are a standard medium width.

True to size for my 45 (11D+) northern European feet. Merrill in my experience have a wide toe box. These are no exception, I.e., roomy,but neither foot nor heel slippage.

I am supposed to have "wide" feet and these boots fit good. Feel good. They are still new to me so I don't know about their "wearing" capacity. And, I don't know if they are waterproof. But, this doesn't bother me because I don't intend to wear them in wet conditions. So far am very satisfied.

Fit perfect, normal size ordered, perfect.

Average to wide but I have a narrow foot.