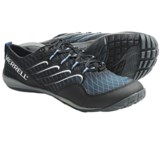 Closeouts. Merrell's Sonic Glove barefoot trail running shoes have a Vibram® outsole and minimal cushioning underfoot to give you a close-to-the-ground experience that connects you to any terrain.
Average Rating based on
83
reviews
4.373493
0
5
Verified Buyer

Reviewed by MrPrytania from Chicago on Monday, November 10, 2014

I've been buying and running in every brand of Merrells on STP because they are so much fun (and wear out pretty fast.) These Soc Gloves feel a bit longer than the trail gloves I've been using. Since I like to use these for cross training, gym classes and weight lifting I'm not as much a fan of the extra length. That wouldn't matter at all if I used them only for running. These have a bit more fabric than the usual Merrells so I'm hoping that as the temp drops they will stay warmer. These also have nearly no cushioning so you have to be completely bought into the barefoot thing. I like 4mm of cushioning for just a taste of protection but that is me. Overall these are nice and have good look. If you're just running in them you can buy them w/o reservation.

Verified Buyer

Reviewed by Black Hills Baby from South Dakota on Wednesday, September 24, 2014

I love trail running in these. They are comfortable to wear as every-day shoes as well, as long as you don't have to take them off and put them on a lot. They are kind of difficult to put on, especially if you have been wearing them recently and have sweaty feet. Also, they run about half a size too big, even though I got my normal size for shoes.

Other than those two minor complaints, they work great, and I think they will last me a long time too!

Verified Buyer

Reviewed by Well-balanced from Midwestern U.S. on Wednesday, June 25, 2014

I got these shoes because I read that shoes with too-thick soles can cause you to be less balanced. Why? Because you need to be able to feel the ground in order to deftly keep your balance. I do a lot of active things that require quick balance and found sometimes that my thick soled shoes got in the way. The other advantage is that if you have narrow stairs these make it easier to go up and down them quickly. I do have thin orthotics that I wear sometimes and they fit fine in these shoes, that have a decently wide toebox. I'm a woman and they fit me fine. I have big feet and so frequently buy men's shoes because they fit better, though not all of them do. I don't do running in them, though. I guess the glowing green color is to help with running visibility, but I'm not keen on this color. Wish they'd make these kinds of shoes in regular neutral colors. Who want's to have your feet be the center of attention? I didn't take a star off for this, though I considered it.

Reviewed by cfvickers from Arkansas on Monday, June 16, 2014

I love these shoes, but if you normally wear a medium width shoe, these may be a little tight across the mid section and they don't stretch out much because of the material used in this one. I normally wear a 9.5 M but needed a 10 M in these. I bought mine at a local store, not Sierra, so was able to try them on first, and glad I did. Otherwise they are lightweight and very comfortable and allow you to feel the surface beneath your feet making them great for trails and occasional climbing.

Reviewed by AZDweller from Arizona on Saturday, June 7, 2014

My go-to workout shoe. I can't get enough of these for all my every day activities up to and including my workouts, which range from lifting to cardio to fighting to cross-fit styles. I do like them with a pair of ultra-thin liner socks, but they go either way. Unlike some Merrell glove lines, these actually give a fair amount of room in the toe box for a medium width foot. It's all the benefit of going barefoot without tearing up your feet and smashing your toes.

I'm truly a convert from traditional running shoes. Love the simplicity and absence of bulk. There's no cushioning here, once your lower extremity muscles are adapted, these are as all-day comfortable as a top of the line pair of cowboy boots. Just perfect.

Verified Buyer

Reviewed by MontanaKitty from Montana on Monday, June 2, 2014

My husband has only tried on in the house but thinks they'll be very comfortable when worn on an upcoming fishing trip. You can't go wrong with Merrell and at these prices?

Verified Buyer

Reviewed by KiDix from North Carlina on Monday, May 12, 2014

Really like these shoe and the price could not be beat

Verified Buyer

Reviewed by smartshopper from MD on Wednesday, April 30, 2014

zero drop design does not work well for me, a bit weired fit. did not run in them, returned after tried on.

Reviewed by Beeboodeeful from Montana on Thursday, April 10, 2014

These are awesome shoes. I ordered them for my husband and went with a half size smaller, since the majority of the reviews said they run large. Well, they don't run large. Not for my husband's feet at least. They're very nice shoes and very light-weight, which is a plus. But if you have hard-to-fit feet, you might not want these. Or be prepared to return for a different size.

Reviewed by Campin'gal from Grass Valley, CA on Monday, March 24, 2014

Had to send these back, as they were to large, even with socks. The heel also slipped quite a bit, as others have said, but that may have been ok if they were not so big. Seemed like nice shoes, but, alas, not meant to be!