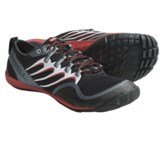 Closeouts. Runner's World Magazine's pick for "Best Debut" for 2011, Merrell's Barefoot Trail Glove trail running shoes offer exceptional flexibility and support from the glove-like fit of an ultralight upper. These also latch to dynamic trail surfaces with a responsive Vibram® Trail Glove TC-1 rubber compound outsole.
Average Rating based on
98
reviews
4.530612
0
5
Reviewed by SSFTR from New York on Monday, December 15, 2014

Seemed like a good shoe, but they're shorter than any other merrell shoe I've worn. I can pretty confidently wear a 10 of the rack, but these shoes were short. I had to return them, I would have ordered the next size up, but STP was sold out of that size already.

Verified Buyer

Reviewed by Scout from Houston on Tuesday, September 30, 2014

Finding a good fitting shoe is like playing a game of Goldilocks. Too narrow, too squishy, too stiff, not enough arch support, or Just Plain Ugly. These are light, flexible, just the right amount of cushion to protect the tender parts of your foot. The toe box is roomy, no crunched toe nails. The Vibram sole takes a lot of abuse whether you're running, hiking or chasing a kid through the mall. They stay grippy in the wet too. They are a little thin for walking/running on gravel, you'll feel every stone. I use them as my daily shoe, have used them as my running shoes and even did some trial hiking with them a few times. I've lost track of how many pairs I've worn out over the last couple years. Sizing is close but very consistent, I buy a half size larger than my typical casual shoe.

Verified Buyer

Reviewed by Jake from Western New York AND Ontario Canada on Sunday, September 28, 2014

This is the shoe that converted me. I thought about getting the 5-finger but that shoe only works if your toes fit it perfectly. This shoe has the same effect with a wide toe-box without the individual toes. I love it. I wore through my previous pair (it quickly became the only shoe I wore). There are some small changes but I still love my new pair. Only problem is hiking with it over smooth-wet rocks. It is more slippery than my conventional hiking shoe. Having said that I wear it all the time in the city and on my last trip I didn't even bring by hiking boots.

Verified Buyer

Reviewed by mkan from Colorado on Monday, September 22, 2014

I purchased some Merrell mocs and loved the barefoot feel, so I decided to get some regular running shoes. Both are primarily for everyday use. The mocs have a really comfortable fit. Unfortunately, the trail shoes don't fit so well. The inside part of the ankle opening seems to be too big so there is a fairly large opening when I stand. It's weird, I've never had that happen before. Also the laces attach to a mechanism that pulls down on the tongue. This provides a nice tight fit, but at the cost of flexibility.

The construction of the shoe is first rate, and I really like the Vibram outsole.

I also noticed that both of my Merrell barefoot shoes seem to run a bit big compared to other running shoes.

Reviewed by Anonymous from Colorado on Friday, September 12, 2014

Best shoes I have ever owned. I have had a pair for a year and put many many miles on them. I tried to use a traditional pair of running shoes a few days ago, and I don't think I could go back. I bought two more pairs of this shoe because I like them so much and I want backups for when I wear my first pair out!

Reviewed by AppalachianFam from NC on Monday, September 8, 2014

Again, Merrell does not disappoint. These shoes look good, fit great and are super comfortable.

Verified Buyer

Reviewed by David from Buffalo, NY on Sunday, September 7, 2014

I have three other pairs of these. I originally bought them for tai chi because they are light, flexible, have no heel to toe drop, and have a wide toe box. They were so comfortable that I have several other kinds of Merrell barefoots. I'm buying these against the day the others wear out. That might be a long time from now, since I have only light wear on the vibram soles of the ones I wear most. At around $50 it's worth buying for a future need.

Verified Buyer

Reviewed by Splitley from Arizona on Tuesday, August 12, 2014

I bought these for use at crossfit, they work great for deadlifts, front & back squats, also running short distances.

Verified Buyer

Reviewed by Dave the retired librarian from Ithaca NY on Friday, May 30, 2014

Had these less than a month. I use these just for walking about, not running. I'm not a runner. I like the minimalist sole, but need to put my orthotics in these shoes to have them correct my foot's tendency to collapse inward. So not sure how much I've gained. But they seem to be made well. A leather version might be nice for walking.

Verified Buyer

Reviewed by Mark from Maple Valley, WA on Tuesday, May 27, 2014

This is my fourth pair of the Merrell Glove series. I like the sole on these first generation Trail Gloves better than the second so I'll keep buying them until they are no longer available. I think it's funny that someone commented that the concept of barefoot shoes is a manufacturer's excuse for no cushioning. Well, duh, that's kind of the demand of minimalist/barefoot runners. If you heel-strike and want to continue to heel-strike, these are not your shoes.

I owned a pair of the VFF several years ago and couldn't get past the faddish, goofy looks. I ditched them as soon as I found a better alternative for someone like myself that wants a little protection from the elements for a forefoot strike. These shoes have a very comfortable wide toe box so there is no need to purchase a size bigger like many running shoe stores recommend. These shoes are true to fit.

If you plan on doing rugged trail runs, I wouldn't recommend these either. Look into a minimalist shoe like the Brooks PureGrit that will give you a little cushion from coarse or uneven surfaces such as rooted or gravel trails.

In summary,

BUY THESE IF:
-You hate the look and style of VFFs
and/or
-You're already a barefoot runner

DON'T BUY THESE IF:
-You're a heel-striker
-Need cushioning for coarse trail conditions
-Are interested in transitioning to barefoot running (you'll want a "minimalist" shoe to transition first)

Verified Buyer

Reviewed by Seymour Butts from USA on Monday, May 19, 2014

This is my third pair. No they don't have any support in them.....over time your feet become very strong!

Verified Buyer

Reviewed by Dr. t from North Carolina on Friday, May 9, 2014

I purchased 3 pairs of this shoe when they first came out. I finally wore one pair out and ordered a replacement pair. The new version was Trail glove 2. I can only say, if you loved the original version of this shoe ( as I did), you will hate the Trail glove 2 version. It is stiff and anything but a glove. Iawas lucky enough to find some of the original Trail glove shoes online and purchased them.

Verified Buyer

Reviewed by Sussya from Arizona on Tuesday, May 6, 2014

I bought a pair of these for my teenaged son, who hates clunky shoes. He has been wearing Brooks minimalist shoes for a couple of years, and he wanted to try these out. He raved about them so much, we bought my husband a pair, too. My husband said they feel like socks. Both love how comfortable they are. They have worn them on the trail and walking around downtown with good results. STP has such a great price on them, we are looking to buy more!

Verified Buyer

Reviewed by Allen H. from Naperville, IL on Monday, April 28, 2014

Unlike runners who normally land more on the middle part of there feet, I'm a walker who hit squarely on the heels of my feet with toes up high. This allows my ankles to progress to its full range of motion. And this shoe fits great and it is very comfortable shoe.

Verified Buyer

Reviewed by JohnL from Washington on Tuesday, April 8, 2014

These shoes just didn't fit right. My feet literally went to sleep and got tingly even when i was just wearing these in the house to see if I liked them. Strange but didn't work for me.

Size was good though.

Verified Buyer

Reviewed by Colleen from Illinois on Tuesday, April 8, 2014

There are very comfortable and great for running, Built well, lightweight and made for "barefoot running" feel This is his second pairt and the price here was great. I definately buy again.

Reviewed by desertcastaway from AZ on Saturday, March 22, 2014

These are great shoes, but Merrell made a rocky transition from their kids' sizes to mens'. My son is outgrowing his youth size 7 Merrell's, so I ordered him an 8 in these. Barely bigger. Will return for 8.5.

Reviewed by Skibum53 from Peoples Republic of Madison on Wednesday, March 19, 2014

LOVE

Reviewed by TdeP from La Jolla, CA on Tuesday, March 11, 2014

I had to return my size 9 for 9.5

Reviewed by sga from Minneapolis on Thursday, March 6, 2014

The shoe is everything it promises. Shipment was made quickly.

Reviewed by Kevin G. from Santa Barbara, CA on Wednesday, February 12, 2014

This is my third pair of Trail Gloves (I own a pair of the II's but went backwards for these due to the closeout price) and I can't recommend them enough. They're a versatile minimalist shoe with great traction, no lift, a wide open toe box (for average feet), and a slim weight of less than 7 oz per shoe. They treat your feet right while providing all the protection you need for even the nastiest of trails. If you're new to the minimalist/barefoot genre, make sure to ease into them and adjust your form accordingly. It's on you if you run into trouble after slamming your heels into the ground for 20 miles the day you get them.

Reviewed by Chris from Hawaii on Wednesday, February 5, 2014

This is my second pair, in active service. Price here was excellent, about 53 bucks with a coupon or two. I still have my first pair with the only signs of damage being a worn sole, two years in. Not a seam ripped nor anything coming un-glued. I am fairly hard on shoes, often using them wet in my work as a landscaper.
Sure wish they had high heels, grin. And I would rather not feel the ground... so thin the sole:)

Major sport marts have these to try on. Compare. Price is half here!
Aloha!

Reviewed by Some Guy from MI on Tuesday, February 4, 2014

While I've only had these for a few weeks they feel better than I expected. I've been running in Five Fingers for 3 years but they just don't last so I'm trying the Merrells. I was worried that running in them would not feel as "authentic" but it feels nearly the same as the Five Fingers. I feels like I am running naturally and my feet do not feel restricted.

Reviewed by JT from Florida on Friday, December 27, 2013

I have been using these shoes for a couple of years for running. As they are a 0-rise shoe, I use a minimalist (barefoot running) type of stride to which I had to initially and gradually adjust in order to get up to the higher mileage (4-5 miles for me). I started out in Vibram 5 Fingers and will always love those, but I tend to have more residual metatarsal pain when I run in them. These trail gloves have more binding type of support (as in a supportive wrap around my foot) which seems to help prevent metatarsal stress. The slightly thicker soles also help with the metatarsal pain. But I still get the benefit of a super light weight running shoe and being able to run in the minimalist style. I love these shoes. They are fairly durable, but being made of synthetics, they will wear out sooner than a leather shoe would. This particular style is good for warm weather, but not as comfortable running in the cold because of the extensive mesh.

Reviewed by 13Fox from Lancaster,PA on Friday, December 20, 2013

These shoes fit like a glove. I find it amazing that the fit is the same whether I go barefoot or put on hiking socks for colder mornings. At 7 ounces per shoe they're lighter than my flip flops. Run faster, jump higher. Anxious to see how they perform in the sand. After Sandy I stopped running the beach because you never know what kind of nasties are lurking beneath the sand.

Reviewed by Gulfcoaster from Saint Petersburg, FL on Wednesday, December 4, 2013

Bought these for my husband who was very happy when he saw them, but put them on and said he could feel a "bump" under his heel. Perhaps part of the design for barefoot running? He and I were both sorry that I had to return them.

Reviewed by Gulfcoaster from Saint Petersburg, FL on Wednesday, December 4, 2013

Bought these for my husband who was very happy when he was them, but put them on and said he could feel a "bump" under his heel. Perhaps part of the design for barefoot running? He and I were both sorry that I had to return them.

Reviewed by Jonny13 from Afghanistan (deployed) on Monday, December 2, 2013

I purchased these at full price when they came out in 2011, I was ecstatic to see them in a different color at a deep discount on Sierra Trading post! I love these shoes. Great for trail running and my crossfit workouts!

Reviewed by NoCo Drew from Colorado on Thursday, November 14, 2013

As a new barefoot/minimalist runner i wasn't sure which shoe to choose, but I liked how these Merrell's looked and that I could use them for the trail or road. They have been comfortable, but my right shoe has needed tweaking with figuring out just the right tightness balance of the laces from bottom to top. At first i wore a spot above my right big toe raw but fixed it by adjusting lace tension. My left littlest piggy was just starting to rub raw after a 6 miler yesterday so I will probably have to play with that. I do go sock-less and I have fallen arches and flat feet so not sure how much that contributes to my issues. Overall, I am happy with my purchase and am glad I made the switch to barefoot/minimalist style.

Reviewed by Randy on a Bike from North Carolina on Monday, September 30, 2013

This is the fourth Merrell shoe in this style that I bought. They are very comfortable and fit my foot very well. I use them for bicycle commuting and wear them all day long.