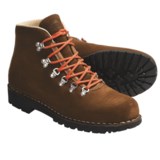 Closeouts. Boasting a time-tested look and design, Merrell Wilderness hiking boots feature Italian craftsmanship and are supportive enough to handle the toughest terrain and heaviest loads.
Average Rating based on
28
reviews
4.607142
0
5
Reviewed by ExCDNGuy from Salt Lake City, Utah on Sunday, October 13, 2013

I had been looking for new boots for some time to replace a pair of dying Zamberlan boots that I've had for a decade plus that have passed the repair point. I personally like a traditional old-school style all leather (preferably smooth) boot and not something all new-age and Goretex etc. (I'm not that old really, mid 40s but I just like the traditional style). Anyhow, I had been long looking at these and some Alico Tahoe or Summit boots online and was planning to order sometime this fall.
Fate interevened yesterday on a business trip that put me into Reno, NV as I happened to spot the Sierra Trading Post outlet store in Reno on my way to South Lake Tahoe. Since I was here, I figured it would be good to go and try them on in the store and not deal with size guessing and back and forth shipping (even though STP is good to work with on that). I tried the Alicos and these and decided I liked the fit, finish and feel of the Merrells on me much better so bought them. I was worried about waterproofing and so bought a bottle of Nikwax nubuck and suede spray with them. Got to my hotel in S. Lake Tahoe and although it must have looked odd to security cameras, I went several times out to the parking garage to spray waterproof the boots outdoors and then brought them in to dry overnight.
I took them out hiking for a few miles today around Emerald Bay and then some short hikes in other areas (took it easy - maybe 5-6 miles since no prior break in) but they performed admirably and fit and felt just great! Even stepped a bit into the shallow parts of beautiful Emerald Bay and the waterproofing worked well. I can't wait until these get totally broken in and I suspect that they will fit like a good glove!
Beautiful boots and I am so glad I stopped into STP to buy them in person! Hope to have these for many years.

Reviewed by 50th State Scoutmaster from Waipahu, Hawaii on Friday, June 7, 2013

As mentioned in previous reviews... these boots are very well made and very functional. I first purchased the black, smooth tan and just got the brown suede. As in all clearance items, only certain sizes/colors are available... but, when your size/color comes on... buy it as the prices is really good.

Reviewed by 50th State Scoutmaster from Waipahu, Hawaii on Tuesday, April 30, 2013

A pair of these babies popped up on my PC screen from STP... in the smooth tan color and my size... and I did not hesitate to buy it immediately. These are my 2nd pair of Merrell Wilderness Hiking Boots and I have really lucked out as the 1st pair (in black - see my other review) and now 2nd pair (in smooth tan) are part of the 30th Anniversary Limited Production from Merrell for this particular boot model. On the right heel of each boot is embossed 1981-2011 (and the production number). These limited production models are made with the same quality leather materials as their other boots, but apparently made with 'finer' designer looking materials (smoother leather, colored stitching and different colored boot grommets). To be honest with you, I cannot really use these on the trails just yet... but, have been using them for work (in the office) and to go out in the evenings and weekend. They are 'so comfortable' and really 'look that good'. I eventually will use them down the road as they age gracefully. Should you come across these boots... suggest you make sure that these are not the Wilderness Canyon that are made in China... very BIG DIFFERENCE!

Verified Buyer

Reviewed by solstace hiker from Cincinnati OH on Monday, February 4, 2013

runs small, prone to shrinking

Verified Buyer

Reviewed by 50th State Scoutmaster from Waipahu, Hawaii on Thursday, January 24, 2013

These Merrells are very similar to the Alico Tahoes (which I have 2 pairs). The soles, inside liner and stitching are the same. Only difference between these and the Alico Tahoes is that the Merrells are more stiffer in the ankle area providing better support. The Alico Tahoe's ankle padding is a softer material and not full leather. I primarily bought these for the color (black) so that I can use them to work when I wear black pants... looks good also to go out into the town. As far as the break-in period that most people grumble about... those that use good old quality leather shoes know what to expect and prepare for... the more you wear them, the better they get. I probably would not use these on the longer backpacking hikes that I do with our scouts as I already have a well broken in pair of Alico Summit and Vasque Legends (which are my 'go to' hiking boots). Overall... very good hiking shoe!!!

Verified Buyer

Reviewed by NW scout from Seattle, WA on Thursday, January 17, 2013

These are old school rugged boots. Yes the interior is breathable fabric instead of leather, but I am not hard enough on them to consider interior liner wear prevention a suitable trade off for holding sweat against my feet. Yes you can use socks to offset that downside, but it is easier to have a liner. They are very stylish, which is a side benefit, not a decision driver. The built quality is excellent. This is no cheapo boot with glue slathered on and ill fitting parts ground down to match each other. They are really stiff when new. Something like Dutch wooden shoes. They are not the soft wilderness canyons that you commonly see in stores. They are completely different boots that require proper old fashioned break in. They also aren't goretex so you will have to pay attention to treat them to ensure waterproofing, but they are breathable. So far I love them. There aren't any rubber armored lowers to protect the toes or any other modern crutches, just thick strong, seamless leather.

Verified Buyer

Reviewed by Evan from Baltimore on Monday, January 14, 2013

When I first tried these on, I wasn't sure. My heel was snug, but I had a tongue hot spot on my left instep. I decided to take a chance and hope that being leather, a break in would fix the hot spot, and it did after a week of plenty of walking. My synthetic Asolos still have a tongue hotspot after plenty of miles. I used Nikwax Conditioner for Leather (I have the smooth leather) at the suggestion of Merrell. Kind of a pain to do with these new, as it's hard to dampen the leather with the DWR still on there.

I plan to use them for hiking (which I do rarely) but I needed city boots, so they'll get plenty of miles.

Verified Buyer

Reviewed by Evan from Baltimore, MD on Saturday, January 12, 2013

I liked these, but the back was too straight to conform to my heel, which kept lifting when I walked. It's possible that this could have been fixed by breaking them in, but I went with the Merrell Wilderness because they kept my heel down right off the bat.

Verified Buyer

Reviewed by Pappy Rick from Charlotte, NC on Wednesday, January 2, 2013

Great boots, STP really got the price down on these somehow. I've had Danners, Vasques, Asolo, and these are right up there with some of the great boots I've owned. I've had them for about 2 months and I can tell they are really built to last. Break-in period was a little rough for about 2.5 weeks. After that you'll be good to go.

Verified Buyer

Reviewed by Coyote Hunter from Missouri on Tuesday, December 4, 2012

I have looked for a replacement form my Vasque Sundowners for 15 years and these are it! I actually like them better! These are a boot for a serious hiker or hunter. They are not too stiff and they are not too flimsy. The fit is true to size and it only took me a couple of days to break them in. They offer such a stable platform that does not allow your foot to roll when you step off the side of a rock. Awesome Italian made boot! I will be buying a second pair as soon as possible.