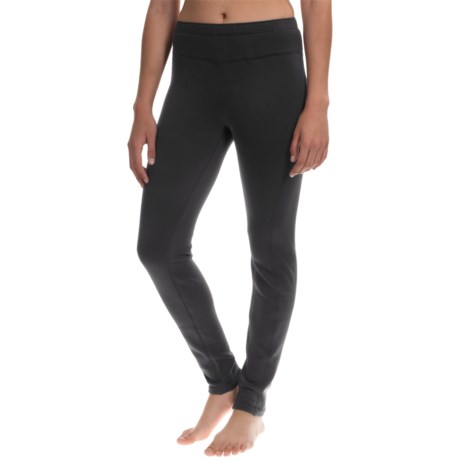 Thick, warm & cozy, but tendency to pill...
Verified Buyer
Reviewed by Gloria from Southern California on Saturday, December 24, 2016
I knew from reading through the reviews that these leggings were likely to pill a lot--and that certainly turned out to be the case...They only looked nice through the first couple of wears--even after removing the pills the abraded fabric is rough and the change in texture is obvious--not just along the inseam but also in weird places like behind the knees. Too bad, because otherwise these would be 5-star leggings. Since I didn't really purchase these to use as leggings for casual wear out & about, but primarily to be worn as a base layer or just around the house as lounge wear, I can enjoy the warmth and comfort without worrying too much about their appearance. I have to say that because of the pilling I would not have been pleased with these at the regular retail price, and would never even consider a second purchase, but with the savings on STP, I feel these represent a good compromise between looks & function. These are very comfortable--warm without being heavy and they are non-binding. When I took them out of the package, I thought they would be much too thick and bulky, but once on they somehow manage to look and feel sleek; at first I wasn't sure these would fit under most clothing, but they compress easily and have a smooth finish, so they work well with all but my slimmest fitting jeans. I have these in blue and black and will pick up the grey version when they are available in my size. I feel as if I am always cold and I end up wearing a base layer for at least part of almost every day from November through March, so I have tried quite a few brands and styles. These may not be destined to become my favorites, but they will still get a lot of use--aside from the pilling problem, they are durable and easy to care for and hold up well. I wear my woolen versions on the coldest days, but these will be a great choice for those days that a thin layer just isn't enough. I feel that the fit is TTS and the length is generous (I am 5'4" and I think these would work for women a few inches taller, as well). I like the not-too-low, wide waistband--it stays put without rolling or slipping down, and the legs and rump areas don't sag & bag over the course of the day.