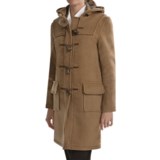 Closeouts. Nothing even comes close to the quality of a genuine English duffle coat, and this Montgomery by John Partridge Classic duffle coat embodies all the traditional hallmarks -- from the wool-rich fabric, to the horn-toggle front, to the regal plaid lining.
Average Rating based on
66
reviews
3.969696
0
5
Reviewed by Charlotte left in the cold from Albany, OR on Wednesday, December 11, 2013

The coat is well-tailored, the chest size complements boyish figures. The wool/nylon material has a hard finish, it feels stiff and uncomfortable. Might discolored pilling may become a problem? Returned the item.

Reviewed by CB from New Canaan from New Canaan, CT on Wednesday, December 4, 2013

The quality and workmanship of this coat is unsurpassed. I love the fabric, the pockets, the yoke, the plaid interior. I'm 5'5' and weigh 138. I normally wear a 10 - 12 coat. I ordered a 36R which fit my shoulders perfectly, but wasn't as roomy around the hips as I would have liked. I don't think these coats are designed for pear shaped women. I will keep the coat anyway but probably just use the toggles to close it and not the zipper.

Reviewed by El from Old Greenwich, CT on Thursday, November 28, 2013

Absolutely yar! So British and true navy color! It is warmer than down coats. So classy. I owned one at university and here I am 38 years later owning one again. I adore the finished tab by the neck for a smooth looking finish. I feel it is the richest coat and warm. The price is fantastic and I recommended to a colleague and she purchased one after me!

Reviewed by Minnie the Singer from Herndon, VA on Wednesday, November 20, 2013

This coat does run just a tad large. My daughter is a size 14P in Brooks Brothers, so I ordered her a 40S (in camel) per the web site suggestion. I also ordered her a 38S (in navy) as a backup. She says that the 38S fits her best, and is delighted with both the quality and the color! Her happiness cannot be overstated. Daughter says the coat is classy enough to go over a suit in a conservative office, as well as warm and appropriate for a football game. Daughter is 30 and works in a position where formal business attire is a requirement.

I bought this coat also for my younger son, who is twenty, and in his first "real" job. He sells high end accessories for which the commissions are substantial. He cannot afford to look sloppy - it costs him directly in lost sales. It was a job to get him out of jeans and into dress pants, dress shirts and ties, but he has now seen that he is taken more seriously. He needed a winter coat (he is in New England), so I bought him the men's version in grey. Son is a 40R in a Brooks Brothers suit, the men's 40R fit him nicely (he says - I have not seen it yet)/ Son was so appreciative that it was touching.

This is not the first time in their lives that I have bought these kids something for their wardrobes. It is not a surprise to them to get a package from me. However, to hear the gratitude upon receiving these coats, you'd think they were the first things I'd ever gotten them. I attribute their gratitude to the fact that even they can appreciate the quality.

What more can you want? Thank you, STP, for once again offering a solid winner to your customers, and for making the return and exchange process (of my daughter's 40S) so painless!



Reviewed by kjones from Utah on Wednesday, November 20, 2013

Quality, well made, warm. Love it.

Reviewed by Ceeb from PA on Thursday, November 14, 2013

So glad I bought this. It is a beautifully crafted article of clothing, and very flattering. I love the heavy comfortable feel of it.

Reviewed by NW Shopper from Seattle on Thursday, November 14, 2013

I have been shopping for this coat for at least 15 years, when I lost my last one. It is cozy and beautifully camel. The plaid lining is truly "regal". The toggles are timelessly duffle. There is only one problem that vexes me: I got size 8 and the shoulders are rather large, but bottom is rather snug, by comparison. Perhaps I need to accept that it is time for me to diet/exercise. Perhaps I will need to give up and send it back. For now I am hopefully keeping it in its plastic bag.

Length is right, sleeves are right length.

Reviewed by Jane K. from New York on Wednesday, November 6, 2013

I've been hunting for a duffle coat for a while now, and have scoured stores for THE ONE. After doing some research, I narrowed it down to three companies: Gloverall, Barbour, and Original Montgomery. In terms of quality, they seem pretty similar except that Original Montgomery is a few hundred dollars less expensive than Gloverall and Barbour. When this coat came out on Sierra, I jumped for it!

The fit is somewhat boxy, but the 30 works perfectly for me (I'm 5'6 and 110 pounds). With a button down and a cardigan on, the coat fits perfectly. In terms of the length, it comes down to about 2 inches above my knee. If I were any shorter, I would probably want to get the length adjusted slightly at a tailor.

Overall, it's a really well-made coat and I'm very happy with it!

Reviewed by DDaphna from Russia on Tuesday, October 22, 2013

This duffle coat is totally perfect: warm, light, stylish, perfectly fit! And the price is the best! It looks like it costs triple times more! I'm sooo satisfied! And I've got a generous discount for my future purchase till May 2014! Thank you!

Reviewed by LoveEnglishClothes from Maryland on Friday, October 18, 2013

This coat has absolutely first rate, exceptional quality. A true classic duffle with attention to detail. The interior seaming and wool plaid lining looks lovely. The hood has a very odd shape, slightly small and egg-shaped in my opinion. When it's on, it gives a pyramid appearance, pointy on top and bulges wide on the sides. The zipper is plastic. I am 5'4" and 150 lbs and normally wear a size 10 coat, and purchased the size 36 short in blue (it's a true dark navy). I wanted something large enough to wear over a blazer. It is roomy enough to work over a thick sweater or blazer without being too tight. The length was fine. But as other reviewers mentioned, the wide shoulders and lack of any narrowing in the waist make for an unflattering picture if you do in fact have a waist. I found there to be too much fabric draping down from the armpits, and from the back the coat puckered out due to the extra fabric. It could use just a touch of shaping. It's too wide. The straightness didn't bother me as much as the extra bulging fabric did. Because the material is slightly stiff, the extra material doesn't lay completely flat. I absolutely love the style and workmanship of this coat, but it's just too unflattering for me to keep.