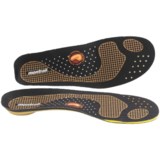 Closeouts. For lower-volume arches and footwear, Montrail's Enduro-Sole footbeds use heat to permanently mold to the precise contours of your foot, thereby distributing even pressure and reducing fatigue and soreness.
Average Rating based on
8
reviews
4.625000
0
5
Reviewed by Anonymous from Pasadena on Monday, January 20, 2014

I think I have one in every pair of shoes I own.

Reviewed by Anonymous from Pasadena on Tuesday, November 26, 2013

I love these. I always get a couple when the price is good.

Reviewed by Mia in Arvada from Minneapolis, MN on Monday, August 19, 2013

I've never bought soles / footbeds before. Didn't even know they existed, (separate from those that come with the shoes). But my girlfriend told me that the first thing she does when she purchases good shoes is she takes out the soles that come with the shoes and insert better, full support footbeds. I got the idea from her and decided to give these a try. OMG, what a difference they make in a shoe! My feet have never felt better.

Reviewed by Anonymous from Pasadena on Wednesday, May 1, 2013

I put one in every pairs of shoses I wear. I did not bother to heat them. And them seemed to fit my feet well.

Reviewed by Hiking Harry from Pennsylvania on Sunday, April 7, 2013

These do work as advertised, in that after heating in an oven at 225 degrees, they conform quickly to the shape of your foot. Having said that, they do not seem to offer any more or better protection than average drugstore grade gel inserts, that also conform to your foot, then just spring back when you take the shoe off. They run slightly small. A size 14 fit my size 13 shoe without trimming. So, while I have no complaint about the product, they cost about twice what I normally pay for athletic gel inserts, which last about six months before I replace them. One word of caution - the rubber on these has a very strong odor and they stunk up the kitchen pretty well during the heating process. They smell highly synthetic and if you are sensitive ( I am not, wife is) prepare to be lectured about the toxic fumes. Just a heads up. I've smelled worse, but these do have a strong stink. So, they work OK, if you like the self-molding gimmick.

Verified Buyer

Reviewed by Steve from San Jose, CA on Tuesday, January 1, 2013

Easy to set up.. just pop em in the oven, then into your shoes/boots... then wear em for 20 minutes..

Verified Buyer

Reviewed by Mac from Ga. on Thursday, December 27, 2012

Due to reports of undersizing,I ordered one size larger and they fit great. Will buy more for other boots.

Verified Buyer

Reviewed by Bike Payne from Mulvane, KS on Tuesday, September 25, 2012

Unlike other shoe inserts, you actually mold these to your feet by heating them up in an oven, placing them in your shoes, and then standing in your shoes to mold the heated insert to your foot. This creates a perfect, customized fit.