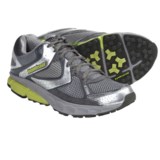 Closeouts. A great-looking hybrid, Montrail's Fairhaven shoe fits like a dream and delivers a smooth ride on roads and trails, with proprietary FluidPost stability for amazing footstrike support on any terrain. Only 1 lb. of weight for the pair.
Average Rating based on
61
reviews
4.426229
0
5
Verified Buyer

Reviewed by Mountain Runner from Montana on Monday, October 13, 2014

I LOVE Montrail shoes. I run on old logging roads which are gravel and with Montrail shoes my feet do not start hurting because of the gravel. I have tried many other brands of shoes and Montrail shoes are the only ones that keep my feet from feeling the gravel and hurting. My knees also start hurting with other brands of shoes. Montrail has just the right amount of stability in their shoes.
With Montrail shoes I can not go wrong!

Reviewed by cour10ey from California on Thursday, September 18, 2014

Great hiking and running shoe for the price. Only downside is I wish the ankle was a bit higher to provide more stability on rocky/uneven surfaces.

Verified Buyer

Reviewed by peg from Colorado on Thursday, July 31, 2014

These shoes are fine. And having been in the shoe fitting business for 10 years, I would say they are a true 8.5, contrary to the note saying they run big.

Verified Buyer

Reviewed by pngpooh from Colorado on Thursday, June 12, 2014

These shoes were comfortable immediately. Lots of cushioning. Have hiked and walked numerous miles in them.

Verified Buyer

Reviewed by Long-time ExOfficio buyer from WA on Saturday, May 31, 2014

I sent these back. I loved the looks but the left foot seemed smaller than the right foot; and something inside the left shoe ( a seam at toes) bothered me too. My right foot is a bit larger than my left foot so I think these are sized a bit small, if a left foot bothered me! Or I got a pair with a mis-sized left shoe? They didn't seem to have much volume in the toe box area although the right shoe was long enough for me. They were well padded underneath. I don't doubt that a person could be very happy with the right size pair of these but I didn't get one of those when I ordered my usual running shoe size (7).

Verified Buyer

Reviewed by VT from Colorado on Thursday, May 15, 2014

The shoes would have been extremely comfortable if they had fit. I wear an 8 1/2, but usually order an 9 so that I can wear a heavy wool sock in them. This size 9 was more like an 8 1/2, maybe even smaller. If a 9 1/2 would have been available I would have re-ordered because I really did like the shoe--It just didn't fit.
I was, however, disappointed because I was told I had free return shipping. I ordered these shoes and pair of boots; both boxes were returned, but, only one had free return shipping. The other one cost over $14. I won't order anymore shoes because of the high risk of proper fit and need to return. I don't live close enough to make the drive.

Verified Buyer

Reviewed by joann from DELANCO NJ on Tuesday, May 13, 2014

excellent shoe for the money. very comfortable. excellent support. ordered a 1/2 size up and they are perfect. highly recommend

Verified Buyer

Reviewed by Patti from Missouri on Saturday, May 10, 2014

Due to foot issues, I have worn nothing but Earth Shoes for years, but Kalso, in all their infinite wisdom, quit making athletic shoes (or even attractive shoes, but that's for another time and place). So I ventured to try out the Montrail running shoe because of good reviews and a very reasonable price. The first pair I ordered in my size was way too small overall, so I reordered a whole size larger. I have to say, these could well be the most comfortable shoes I have ever put my feet into. No break in period, no hot spots, nothing but a cushy foot bed and roomy toe box. Usually if the toe box is wide enough, the heel is too loose and causes blisters, but not with these. Initially I had reservations about the greenish yellow splashes of color and silver highlights, but now I actually like the look. My husband calls them my "[...] shoes".

Verified Buyer

Reviewed by Trendy Air Plant Goddess from Ocean City, New Jersey on Saturday, May 10, 2014

My legs were damaged from my last job. I was an interior horticultural tech for "The Pool" @ Harrah's casino in Atlantic City, NJ. I used to run twice a day, but the slate flooring caused my inability to walk and after 3 years, I had to leave the job. I gained 70 lbs because of this and to me, it feels like 300lbs. I am in my early 50's & can't get the weight off. I needed a sneaker that could hold my weight and this trail sneaker has the support that I need to keep moving. I have spent so much money on other sneakers, which only gave me comfort for 2 weeks & ended up in the trash. So...if you are overweight, get a trail sneaker for every day activities. The support is exceptional. I finally have HOPE after searching for adequate footwear for 5 years. These sneakers were a miracle.

Verified Buyer

Reviewed by Feet in Vesper from Wisconsin on Thursday, May 8, 2014

Good support, but short and wide. If laced very tightly they can work for a narrower foot. Order up AT LEAST one size. I ordinarily wear a 9.5, but even an 11 is almost too short.