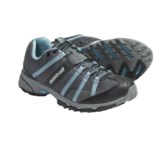 Closeouts. If endurance trail running means going until long after the competition has thrown in the towel, Montrail's Mountain Masochist trail running shoes are the pair for you. Highly breathable and lightweight, this responsive pair features a full-length Trail Shield to fortify the underfoot and a grippy Gryptonite® outsole for unyielding traction, even over loose terrain.
Average Rating based on
109
reviews
4.614678
0
5
Reviewed by GreenSangha from St. Louis on Wednesday, July 24, 2013

This is a comfortable shoe but does not run wide enough for a wide foot. A medium to narrow may fare better. There does seem to be a lateral roll but the strangeness dissipated as I wore the shoe around the house. They seem like they'd be a nice trail runner, not too heavy. I have to return them, unfortunately.

Reviewed by Gabby from Ohio on Tuesday, July 23, 2013

Just what I wanted! Looks great as a casual shoe but is wonderful for walking or hiking

Reviewed by GreenSangha from St. Louis on Saturday, July 20, 2013

I wanted to like this shoe but within a few minutes of wearing it, it was clear that it is just too narrow. Another strange aspect is that there is a lateral roll as if the middle of the shoe is higher than the sides. I could have gotten used to it if it weren't for the width problem. It is a cute shoe, though.

Reviewed by Running grandma from Oregon on Saturday, July 13, 2013

I bought these as well as another model of Montrail because this brand usually works for me. I liked the looks of these but had to send them right back because they were way too short. No where close to being long enough for the size that I usually buy and that usually fits me. Darn it.

Reviewed by Bee1 from California on Tuesday, July 9, 2013

I loved this shoe so much that I just purchased another one for my sister. I have never tried this brand before, but I am glad I gave it a try. The pair exceeded me expectations! It has great arch support and cushioning. I ordered a half size larger at first, but found that it was too large. I ended up getting my usual size.

Reviewed by Old Mama from Washinton on Wednesday, July 3, 2013

These shoes fit very well with ample width in the toes for comfort. They are light weight and have excellent tread design.

Reviewed by Annie from Utah on Monday, July 1, 2013

These are great trail shoes. They have a nice cushion and firm sole and are great on the rocky trails in the Wasatch Mts.

Reviewed by Zoe from San Francisco on Monday, July 1, 2013

I bought these shoes specifically for hiking on different surfaces. I am very pleased. So far I wore these shoes on an 8-mile hike in the hills and they were very comfortable. Great tracking on the sole.

As usually recommended, I got my shoes half size larger and they fit very well. They are also very pretty and feminine - I got the blue-lavender color. Very light-weight.

Highly recommend.

Reviewed by Linda D from Charlottesville, VA on Sunday, June 30, 2013

I have been having so much trouble with my feet. My high arches and so many birthdays have suddenly become an issue for me. On some days, I could hardly let my foot touch the floor without excruciating pain.The podiatrist gave me lots of advice and recommended different shoe inserts for support. They are a little thicker than the ones I've been using and they made my Asics much too tight.

I went to our local Blue Ridge Mountain Sports and tried on every pair of hiking shoes they had. Some made the pronation even worse. These shoes were the last ones I tried. I thought, wow, I couldn't pronate in these things if I wanted to. I've been wearing them now for a couple of weeks. My feet still hurt somewhat from time to time, but they are getting so much better. There are long stretches of time where I don't even notice my feet. That's a good sign that they aren't hurting me at all. To add a little more icing on the cake, they have a nice toe box and good support.

I love these shoes so much that I have purchased 3 more pair from Sierra Trading Post. I can't recommend them highly enough. If you have high arches and pronate, give these a shot.



Reviewed by Jo J. from South Carolina on Thursday, June 27, 2013

Needed a stable, comfortable shoe to wear for an art workshop at a beautiful old mill site. No running but on my feet all day. This shoe fit the purpose and fit my small foot (5.5m).