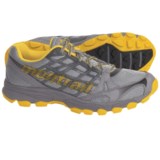 Closeouts. Montrail's lightweight Rockridge trail running shoes take on rugged terrain without slowing you down. They feature a breathable mesh upper reinforced with thermoplastic overlays and a removable EVA footbed that absorbs impact for all-day comfort.
Average Rating based on
159
reviews
4.320754
0
5
Verified Buyer

Reviewed by Scott from New Mexico on Tuesday, January 13, 2015

First pair of these was purchased to walk a half marathon. Showed up two days before the race. Day of the race was rainy, windy, and unpleasant. Didn't want to be on the course any longer than necessary, so decided to run. Never run in a marathon before, but finished in just over two hours. Feet felt great--shoes have excellent cushioning without being too hot or tight; solid tread grips scree, mud, grass, etc. First pair are still in great shape after almost a year of 4-5 days a week wear--just wanted a backup because I love these shoes.

Verified Buyer

Reviewed by leah from bend on Tuesday, September 30, 2014

these fit true to size, not 1/2 size small. seems like the toe box on these is a little smaller (most montrails have a very wide toe box). great traction and cushion out of the box.

Verified Buyer

Reviewed by Sesqui from South Carolina on Thursday, September 25, 2014

Picked these up last spring for hiking and I really like them. Good traction, lightweight and breathable. I've had mine wet with wool sock from stream crossings and they dried out fairly quickly by just continuing to walk. I haven't experienced any hot spots or seam rubbing. I see now that I bought a discontinued model. Now my concern is what to buy when these wear out that are comparable trail runners for hiking.

Verified Buyer

Reviewed by Happy hiker from western nc on Wednesday, September 10, 2014

Very comfortable shoes. Am flat footed so some shoes don't work for me. On feet 9 hrs a day. Feet feel good at end of day. Size runs true. Really like em

Verified Buyer

Reviewed by Laurie in the Sierra from Pollock Pines, CA on Monday, August 4, 2014

I really wanted these to work, but they never got outside of my house. The midsole and insole materials do not protect my feet enough from feeling every lug in the outsole. I tried SofSole insoles and combinations of two different types of insoles, since I had plenty of room to do so. Nothing kept me from feeling those lugs as though they were stamping themselves on the bottoms of my feet. They are on their way back...

Reviewed by Charles Forbin from Southeast on Sunday, July 6, 2014

I have about 250 miles on these shoes at this point so I've had some time to form an opinion. First off, I'm an avid trail runner who runs in the Appalachian and Cumberland Mountains about 5 days a week (anywhere from 5-35 miles). I came to this shoe when Montrail discontinued the Sabino which was a heavier shoe that I liked for it's ankle stability. I generally prefer lightweight racers like the Salomon Speedcross) but like to keep a sturdy shoe with less aggressive tread for certain types of trail work.

The Rockridge isn't a bad shoe, but it really isn't great in any department. It doesn't provide a lot of protection, it isn't especially stable, it's reasonably light, but not fast. The soles seem especially unimpressive. The Rockridge isn't a minimalist shoe, but the sole is weak enough that I feel the miles. Traction is middling--not great, but not poor. If you have to run in muddy conditions you'll be sliding.

On a positive note, the shoe has been durable. Unfortunately I can't really recommend this shoe to serious trail runners--there are too many other shoes available that have solid features--the Rockridge is sort of a jack-of-all-trades and master of none. I might recommend this to someone who is just getting into trail running and is coming from a road-shoe background. The Rockridge isn't a *bad* shoe, it's just not very good.

Verified Buyer

Reviewed by Kristian from Washington on Thursday, June 12, 2014

These shoes are awesome! Very comfortable to run in! They handle the trails well!

Verified Buyer

Reviewed by Blue Toes from Montana on Tuesday, June 3, 2014

Haven't decided if I'll keep these yet. I like the tread a lot, very aggressive, but the shoe is narrower than the Fairhavens. I'm still wearing them around the house to determine if the width (or lack of it) will be a problem. I do not have exceptionally wide feet, although I do like my shoes wide.

Verified Buyer

Reviewed by Scott from Alaska on Friday, May 16, 2014

Very comfortable; snug, but roomy; fit great out of the box and been wearing them daily for a while now as street shoes.

Reviewed by Frankysan from North Texas on Tuesday, February 4, 2014

Bought these for my son for a Philmont trek. He's been training with them the past few weeks now. Nice support, fit well, no blisters, very lightweight. I have a pair of Montrail Mountain Masochist II that I love but I will buy myself a pair of these if they pop up in size 11. These came to us highly recommended by our Scoutmaster who has worn out 2 pair and has two brand new pair in his closet waiting to take their place. A great shoe!